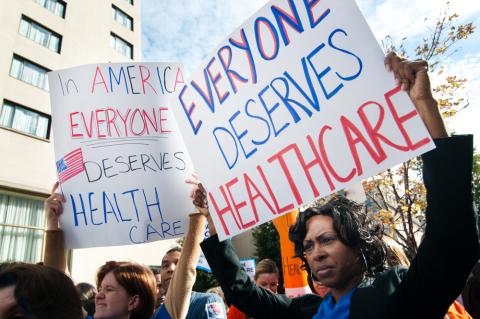 President Donald Trump signed an executive order to make it easier for Americans to purchase bare-bones health insurance plans that could circumvent ACA requirements. Those requirements include the mandate all health plans cover 10 essential health benefits: including maternity and newborn care, prescription drugs, and mental health and addiction treatment.
The action could be open to legal challenges. But this is the most recent step of many taken by President Trump to roll back the ACA since taking office in January: He halved the open enrollment period, greatly reduced the ACA outreach budget, and did not commit to making billions of dollars of payments to insurers, guaranteed under the ACA.
Where will these changes leave the millions of Americans who are in need of health care access? We want to hear from you. Has the ACA allowed you or your family to access health insurance? What is at stake for you if the Trump administration's exective order successfully stands? Tell us your story and we may feature it on the Sojourners site.
Submit Your Story
Your Stories