My Husband Is Not Going to Survive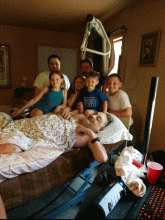 I am a wife & 20-year caregiver to my quadriplegic husband. He has been under Michigan No Fault & the Catastrophic Fund.
However the Republicans want to change this law, which we have been fighting. Therefore they have been changing the benefits with case law, leaving us with less & less to manage our life. Further, their argument states that my husband can pick up this list benefits with Michigan Medicaid! Need I say anything more? My husband is not going to survive. His life is in jeopardy!