May these prayers help you and yours work toward ending intolerance and building justice this holiday season.
"There are many excellent biographies of Dorothy Day already written," D.L. Mayfield writes. "This book does not claim to be one of them."
Williams, author of 'Sisters in the Wilderness' was celebrated for her theology, which saw Black women's experiences as a primary source for "God-talk."
Sen. Tammy Baldwin (D-Wisc.), the first openly gay person elected to the Senate, is a lead negotiator for the bill.
Sojourners Magazine
Should we burn bridges with "those" family members?
The image that first brought Ugandan climate activist Vanessa Nakate to many people's attention is one that cropped her out. Now, she spreads her message without apology or fear of erasure.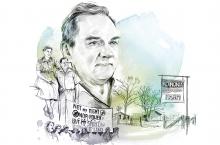 Clarence Jordan and the Koinonia community fought Jim Crow with a "cow library" and a radical faith. There's still work to do today.
"I struggle with my encounters with Indigenous Christians because it feels like the ultimate betrayal." 
In the face of Russia's "special military operation," citizens are leaning into over 100 years of nonviolent history.
In Ottessa Moshfegh's Lapvona, life becomes increasingly awful, with no end in sight.
"Stay woke" is a common phrase these days, a cultural call to arms designed to galvanize people's attention to social and political issues. Wikipedia traces its etymology to African American vernacular English, but while that is true of its current popularization, followers of Christ recognize its scriptural heritage. "Stay awake," Paul wrote to the church in Thessalonica, warning them against being lulled into a false sense of peace and security.
My motherhood is not seen on TV.
Faith leaders have a message for survivors. We believe you.