Posts By This Author
Yet Here We Are Together
12-29-2021
Every story and every person is sacred. And this is no small thing.
STROLLING THROUGH MY neighborhood in East Harlem recently, I noticed whole blocks that felt almost desolate. Along 3rd Avenue I saw stretches of sidewalk once bustling with small businesses, street vendors, the smell of incense, and the sound of West African music, now abandoned amid the echoes of what was.
As a citizen of these barrio streets, the feeling I get is a form of ecological despair. And while some of these places of disinheritance were there before, it seems to have gotten worse during the COVID-19 pandemic. The glitz of gentrification fails to mask increased homelessness, open substance use, and the fatigue many parents and caretakers have experienced, even after the mandated quarantine ended.
At the height of the pandemic, I remember someone telling me, "We're all in the same water but not the same boat." Yes, it's true, the privileged and those who are poor have been hit by the pandemic in multiple ways, but the impact is always felt differently among the most vulnerable. Yet here we are together—a part of the same ecosystem. I've done funerals for the poor and the privileged alike; grief has a way of making us feel more tender and more human.
Cooking Up Meaning
10-07-2014
"Chef," written and directed by Jon Favreau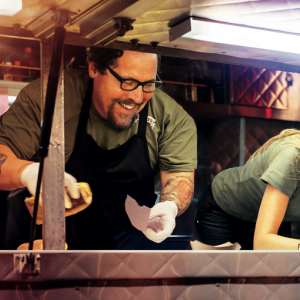 CHEF IS A small-budget film with an all-star cast and artful storytelling. Jon Favreau, who also directed Iron Man, stars in his own film as a head chef named Carl Casper at an acclaimed restaurant in Los Angeles. Casper is left in a vocational tailspin after a scathing review and a public meltdown. He loses his inspiration and finds himself in an existential crisis.
In Chef Casper's quest to recover his culinary mojo, he takes a trip to Miami and buys a used food truck. The film plays on the power of relationships in a messy, winding, but authentic path. Chef Casper's community—his ex-wife, his son, and his best friend—are invited into the one thing Casper loves to do, demonstrating how community, at its best, can propel us on the way we should go.
Each truck stop on the journey back to California fills Chef Casper with new vision and adds distinctive ingredients. He makes his way to once again bring beauty and flourishing back to his street corner of the world.
My small group at church watched Chef together and bonded over it. We explored themes of vocation—how we can contribute to flourishing through the distinctive things "we're good at." And how activism isn't just about waving the proverbial picket sign; it also can be about loving what we do with great friends.