Sarah James, a biracial Indian American woman of color, is a graduate of Yale Divinity School and founder of Clerestory Magazine.
Posts By This Author
Reclaiming Advent as the Season of the Midwife
10-31-2022
As we anticipate the birth of Jesus Christ, we must remember that God appeared in these tender places — in human flesh, in the womb of a refugee, at the site of vulnerability and oppression.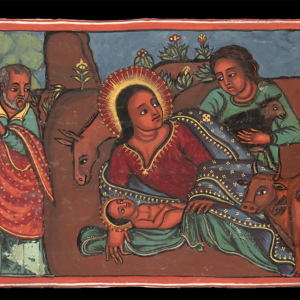 IN THE EIGHTH season of Call the Midwife, set in post-war east London, nuns and nurse midwives of Nonnatus House assist a woman with severe complications from a "backstreet" abortion. Sister Julienne says to a young nurse, "The word 'midwife' means 'with-woman.' A woman in that situation needs somebody by her side."
I'm pro-choice, which was an unpopular stance in the Catholic community I grew up in. For my views on reproductive rights, people in youth group called me a "baby killer" and "Pontius Pilate." During Advent, specifically, I loathed the hollow teachings on Mary and childbirth. We sanitized the Nativity into a cute story — the equivalent of a Disney movie featuring a white family and a manger crowded with men. Only recently did I learn that some scholars believe that midwives attended Jesus' birth. As reproductive freedom and care are further undermined in the United States, this is an apt time to reclaim a more feminist view of the Nativity and rethink Advent as the season of the midwife.
Seeking God's Wisdom Through 'Visio Divina'
08-02-2022
The contemplative practice that renews our capacity to see.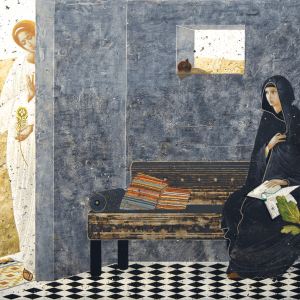 AT THE START of the war in Ukraine, images overwhelmed me. Families crowding onto trains. Teachers holding assault weapons. Nigerian students being held at the border. The clash of human tenderness with extraordinary aggression was arresting. In between checking updates from a friend—an art curator sheltering in Kyiv—Instagram suggested I follow Lviv-based contemporary icon artist Ivanka Demchuk. With fears of global annihilation humming in my head, Demchuk's fresh, calming pieces, such as "Annunciation" and "Sophia the Wisdom of God," captivated my attention and softened the edges of my growing despair.
In recent years, Lviv has become a hub of Christian sacred art technique and production. Lviv National Academy of Arts, from which Demchuk graduated, teaches icon creation, sacred space decoration, and icon theology. For centuries, icons helped make Christianity accessible to illiterate populations. But today, it strikes me that we need this life-giving artform in new ways. We are inundated with photographs of violence, from destruction in Ukraine to police brutality in our neighborhoods. Jesus Christ, our Wounded Healer, taught his disciples how to see injustice and move toward it. How can we, as Christian people committed to justice, cultivate these twinned capacities—seeing clearly and seeking social healing—within ourselves?