Finding Solace in the Work of the Pop Art Nun
Artists and activists are still learning from the vision of Corita Kent.
FOR SISTER MARY CORITA, the supermarket parking lot in Hollywood she walked through each day to get to her art studio was filled with "sources." Grocery advertisements, power lines, cracks in the asphalt, songs from car radios—all of these, to her, were "points of departure" that, when examined in a new way, tell us something about ourselves and God. "There is no line where art stops and life begins," she wrote.
Corita Kent, a Catholic sister described by Artnet as "the pop art nun who combined Warhol with social justice," delighted in Los Angeles' chaotic 1960s cityscape. Her serigraphs (silk-screen prints) wrestle with injustice, racism, poverty, war, God, peace, and love in bursting neon and fluorescent lettering, transforming popular advertisements and songs into statements of hope.
"To create is to relate," Kent wrote in Footnotes and Headlines. "We trust in the artist in everybody. It seems that perhaps there is nothing unholy, nothing unrelated."
"She broke barriers her whole life, but always with joy," Nellie Scott, director of the Corita Art Center, told Sojourners. "People often call her the joyous revolutionary."
Kent was born in Iowa in 1918 and raised in a large Catholic family. Her family moved to Hollywood when she was young, and at age 18, Kent joined the Sisters of the Immaculate Heart of Mary, who ran the high school she attended. She went on to teach art at Immaculate Heart College, becoming head of the art department in 1964.
The changes going on in both the art world and Catholicism excited and inspired Kent. In 1962, the year that Pope John XXIII convened Vatican II, Kent saw the first exhibit of Andy Warhol's "Campbell's Soup Cans" paintings and dove into the world of pop art. "New ideas are bursting all around and all this comes into you and is changed by you," she wrote in Learning by Heart.
"She wouldn't look at [consumer culture] like Warhol or some of the others who were just making an art statement," John August Swanson, an artist in LA who took Kent's lettering and design class in 1967, told Sojourners. "She was looking at it from, how do we bring this into our spirituality and God's creation, seeing the gifts we have been given with food and the ordinary?"
Kent was a "bundle of energy, but very gentle," Susie Reneau told Sojourners. Now an artist in San Diego, Reneau was an Immaculate Heart student from 1964 to 1968 and worked with Kent during the summers in her silk-screening studio. "She gave [students] the feeling that we could do anything, and she demanded a lot of us."
Swanson was 30 years old when he took Kent's class, which he said started him on his journey as an artist-activist. "I had low self-esteem and was afraid to do anything," he said. "And when you went to ask her a question, she would give you all her attention, she made you feel so important. She helped us to not be afraid."
Kent's work has seen a resurgence among a new generation of artists and creators. Two fashion designers noted Kent as the major source of inspiration for their spring 2021 lines. Rebel Hearts, a 2021 documentary, tells the story of the Sisters of Immaculate Heart and their prophetic challenge to the patriarchy of the Catholic Church. The Corita Art Center, a project of the Immaculate Heart Community, maintains the world's largest collection of Kent's artworks and continues Kent's legacy of education and activism through its social media platforms and events.
"There is this very human desire right now for a collective spirit for change and hope," Scott says. "People are finding solace in her words."
As her 1972 print "to love is to expect" says, Kent spoke of hope through "ordinary things," which, she wrote, are "signs for us of our neighbors' needs, of our responsibility."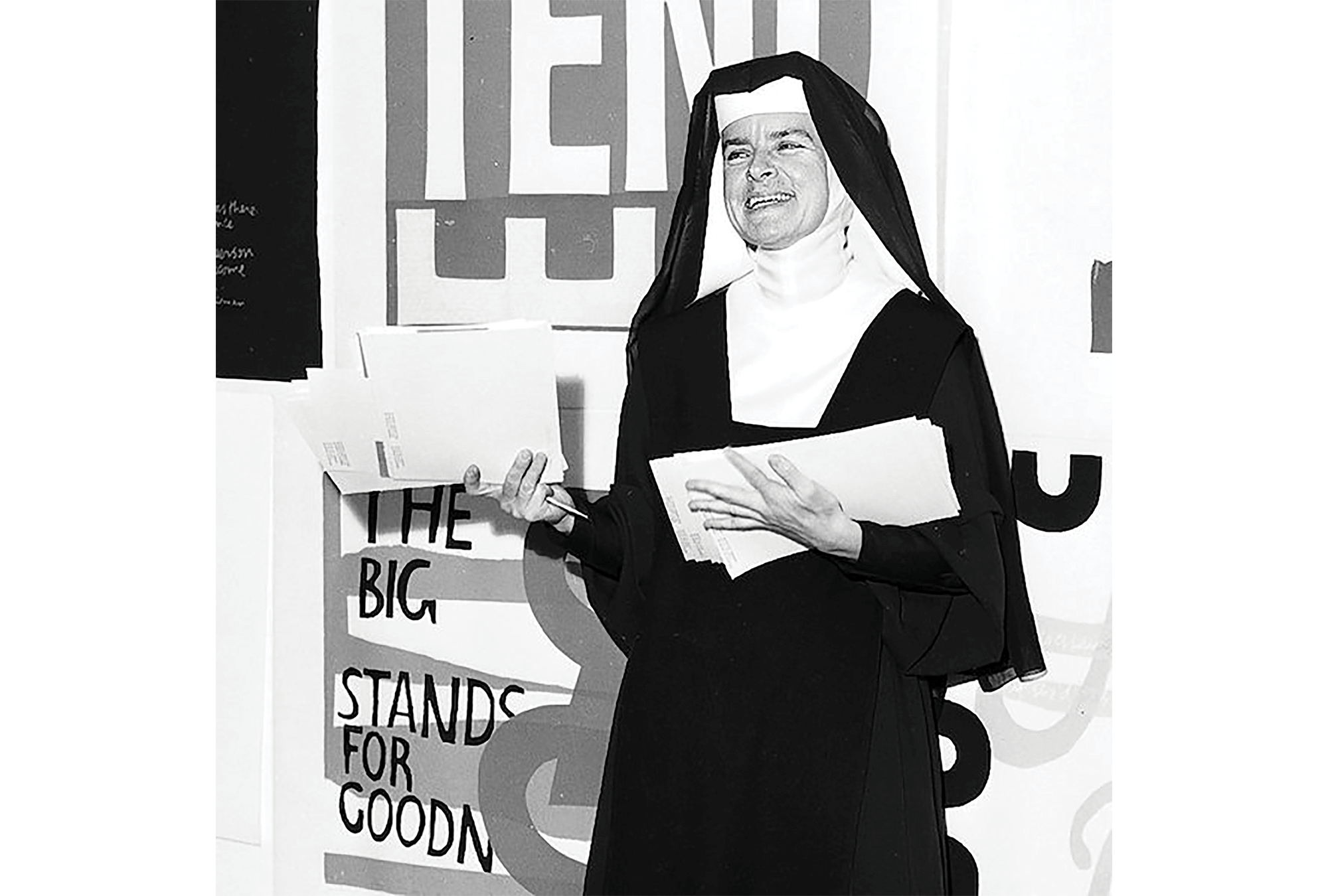 We have no art
"MARY DOES LAUGH," reads Kent's 1964 serigraph of the same name, "and she sings and runs and wears bright orange. Today she'd probably do her shopping at the Market Basket."
This is how Kent imagined the Mother of God when she planned the annual Mary's Day procession in 1964 for Immaculate Heart College. Flower crowns adorned the nuns' habits and students in homemade costumes carried vibrant banners inspired by grocery signs as they processed along the palm-treed avenues of Hollywood. Mary's Day, Kent wrote, "grew out of a desire to make Mary more relevant to our time—to dust off the habitual and update the content and form."

To Kent, because of this, Jesus was the original pop artist. "By taking bread out of its ordinary form and presenting it as his body, he originated pop art," she wrote. Her 1962 serigraph "wonderbread" portrays 12 Eucharist wafers in the bright blue, red, and yellow of Wonder Bread packaging. "When you get past making labels for things, it is possible to combine and transform elements into new things," she said. "Look at things until their import, identity, name, use, and description have dissolved."
Bread, sun, and song are woven through Kent's art. "We lift the common stuff—groceries and signs about groceries—out of the everyday and give it a place in our celebration," she wrote of Mary's Day. "And heaven and earth will not be so far apart."
Kent's commercial-sacred pop art medleys nod to the unexpected closeness of heaven and earth in the everyday. The print "workpower, air conditioner" has quotes about collective human dignity from Thomas Merton and Pope John XXIII alongside language used in Chevrolet truck ads. In "for eleanor," the General Mills logo undergoes a holy reinterpretation: "the big G stands for goodness."
Wavy typeface in the stripy-yellow poster "harness the sun" combines the Zenith radio slogan, "Harnesses the sun to power this," with Beatles lyrics and a quote in Kent's handwriting: "I believe in me through you, I believe in God through you." The print "handle with care" takes a car dealership motto—"see the man who can save you the most"—and overlays it with an e.e. cummings poem about encountering the human Christ.
"There is no irreligiousness in joy," reads the serigraph "juiciest tomato of all," in which Kent likens Mother Mary to a life-giving tomato.
"Up and down highways we see words like 'Cold, clear, well-water,' 'The best to you each morning,' 'Have a happy day,' 'Sunkist,' 'Del Monte's catsup makes meatballs sing' that read like contemporary translations of the psalms for us to be singing on our way," Kent wrote.
Kent took her students on field trips to art galleries and gas stations, where they would observe the movement and color of life with viewfinders—1-inch-by-1-inch squares cut out of cardboard that act as tools to help "take in a little bit of something, so then you can have a better idea and appreciation for the larger whole," Scott said. "She had this act of slow looking."
Buckminster Fuller, Alfred Hitchcock, designers Charles and Ray Eames, and the Berrigan brothers often stopped into Kent's art classes. One time Kent drove the class out to the desert to listen to Paul Horn, a flautist, play in the heat and wind, Reneau recalled.
"We have no art," Kent would tell her students. "You have no distinction between what is art and what is not art. You do everything as well as you can."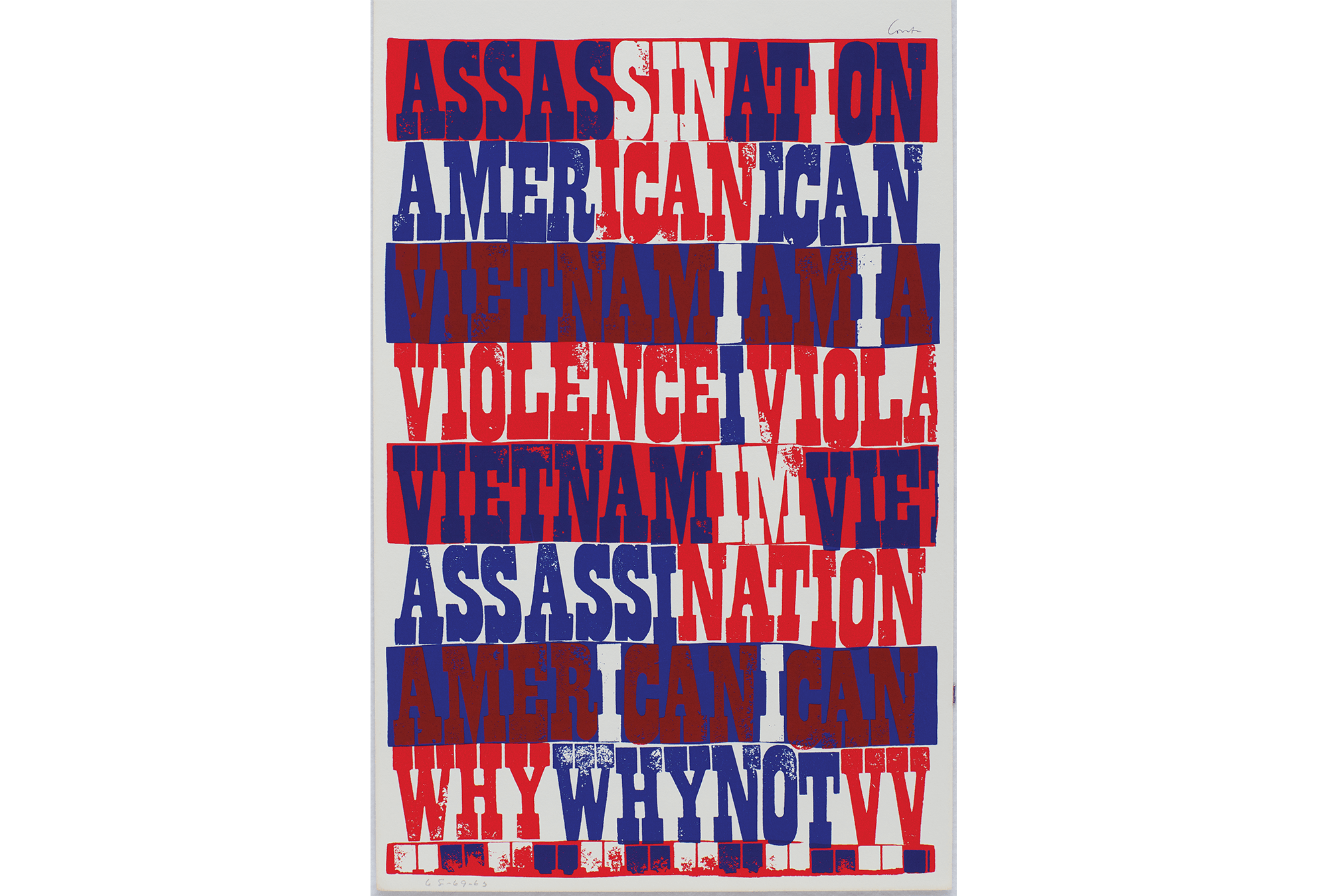 A passion for the possible
IN THE LATE 1960s, Kent's works took on an urgency in their cry for justice amid the civil rights movement, the assassinations of Martin Luther King Jr. and Robert Kennedy, the Vietnam War, and poverty. "Art does not come from thinking but from responding," she wrote.
"God's not dead he's bread" was a commissioned poster for the 1968 Poor People's March on Washington. In her 1965 series "Power Up," she appropriated the Richfield Oil gasoline slogan in large colorful letters and paired it with a sermon on hunger and justice by Dan Berrigan.
The print "my people" was a response to the Watts Riots in Los Angeles, in which Kent took the front page of the Los Angeles Times that said "Eight Men Slain, Guard Moves In" and laid it next to a quote by Father Maurice Ouelett, who took part in the Selma march: "The body of Christ is no more comfortable now than it was when it hung from the cross."
Her many anti-war serigraphs include "american sampler," where the words "american, assassination, vietnam, violence, sin" blend and overlap in red, white, and blue stripes. In "stop the bombing," she used a poem that says, "I am in Vietnam—who will console me?" and "I am terrified of bombs."
Scott's favorite piece includes a quote from peace activist William Sloane Coffin: "Hope arouses, as nothing else can, a passion for the possible!"
"[Kent's] work showed the profound attention she had to the pain and suffering inflicted upon humanity across the world," Swanson says. "She saw the need to bring us hope, to connect to our common humanity. That we couldn't get so depressed or overwhelmed, that we had to keep finding ways to not be burned by the fire."
In times when we "can't sleep at night or lose the meaning of what it's all about," Kent wrote in Learning by Heart, simply "doing and making are acts of hope. As that hope grows, we stop feeling overwhelmed by the troubles of the world. We remember that we—as individuals and groups—can do something about those troubles."
Kent saw creating hope as a collective responsibility, an act of radical neighborly love that won't let us give up. "Only you and I can help the sun rise each morning," says one of her serigraphs. "If we don't, it may drench itself in sorrow."
Hope is hard work, made in the here-and-now, not found in some far-off ideal. "We knead new bread and we need new bread," she wrote in Footnotes and Headlines—with and for one another.
An ornate, thin-lined alphabet swirls and twists in bright yellow on a pink backdrop in "words of prayer," one of Swanson's favorite pieces. Next to the alphabet is a quote in block letters from a Hasidic story: "He repeated the letters of the alphabet over and over beseeching the Almighty to arrange them into the appropriate words of the prayers."
Kent, attentive to the needs of the world, beseeched God through her art to arrange and transubstantiate the alphabet of the ordinary into communal prayers. Her art spoke of the miracle of the human story: that we—in a harsh and devastating world—continue to create and relate and help suns rise each morning. "The Incarnation is still going on and is still bursting like firecrackers and sending out great shoots of light into all things around us," Kent said. We just have to pay attention.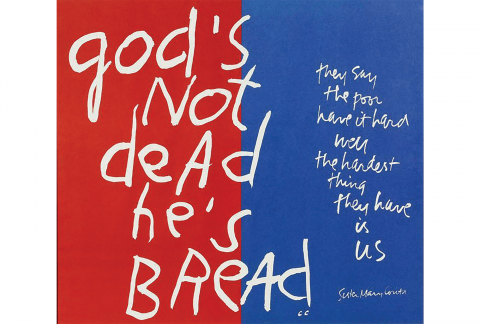 It's up to you
KENT'S REVOLUTIONARY, BARRIER-BREAKING life was considered an affront to reactionary traditionalists like Cardinal James McIntyre, the archbishop of Los Angeles from 1948 to 1970, who banned many of Kent's pieces from being shown publicly. Years of backlash from the archdiocese and the public spotlight began to exhaust Kent, and in 1968 she left her order and moved to Boston to focus on her art and live a quieter life. She spent more time in nature and began painting simple watercolors.
In 1986 Kent died of cancer, having created 800 serigraphs in her lifetime.
"Use it all—even the painful parts, and survive with style: that's what Kent taught," wrote Jan Steward, a friend and art student of Kent, in Learning by Heart. "She knew we would encounter terrific surprises along the way, and her job was to make us able to experience and relish them. Living the questions was our job; we were never being artists."
May we, like Kent, remember our "immense powers to change things," to be co-creators of a new, just world that is already within reach—in every direction, on every street, in every room, in every heart. Her 1981 serigraph, "it's up to you," speaks to this:
"You—special, miraculous, unrepeatable, fragile, fearful, tender, lost, sparkling ruby emerald jewel, rainbow splendor person—It's up to you."
This appears in the August 2021 issue of Sojourners
Got something to say about what you're reading? We value your feedback!