Josina Guess is a freelance writer and worship leader at Jubilee Partners in Comer, Ga., a Christian service community where she lived for six and half years before moving with her family to a nearby 100-year-old homestead. A Louisville Institute Pastoral Study Project grant supported her Montgomery trip. josinaskitchentable.blogspot.com
Posts By This Author
The Damage Done
06-03-2019
A review of 'Grace Will Lead Us Home: The Charleston Church Massacre and the Hard, Inspiring Journey to Forgiveness,' by Jennifer Berry Hawes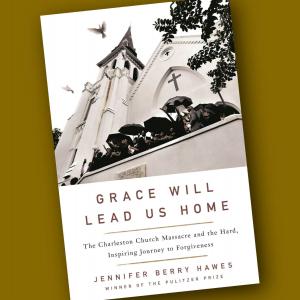 "AND THERE SAT a dark leather-bound Bible soaked in blood. A bullet had pierced its pages."
The Bible belonged to Felicia Sanders, one of the five people to walk out of Mother Emanuel AME Church alive after a stranger who had been welcomed to a Bible study shot and killed Rev. Clementa Pinckney, Cynthia Hurd, Susie Jackson, Ethel Lance, Rev. DePayne Middleton-Doctor, Tywanza Sanders, Rev. Daniel L. Simmons, Rev. Sharonda Coleman-Singleton, and Myra Thompson.
The quote is from Jennifer Berry Hawes' new book, Grace Will Lead Us Home: The Charleston Church Massacre and the Hard, Inspiring Journey to Forgiveness. With measured prose and journalistic excellence, this book rounds out the forgiveness and grace that have become synonymous with the Charleston massacre by exposing the outrage, isolation, and bumpy road of grief that followed the deaths.
Why I Brought My Children to the Montgomery Legacy Museum
06-25-2018
Dedicated to victims of lynching, the museum and monument create space to mourn those whose killings were covered in silence. 
MY THROAT STARTED to feel tight a few days before I went to Montgomery this April. I had been planning this pilgrimage to Alabama with my teen children for months but, as the days grew closer, I questioned my body's ability to walk into the grief that was awaiting us at the Legacy Museum and National Memorial for Peace and Justice.
As a biracial African-American woman putting down roots in the rural South with my white husband and our four children, daily life can feel like an act of resistance. Every day we are faced with Confederate flags and memorials that celebrate an era and mindset that would have made our marriage and my equal ownership of our property a crime. But we love our home, the land, and our neighbors. We want, in the words of Gwendolyn Brooks, "to conduct [our] blooming in the noise and whip of the whirlwind."
I was determined to bring my older children to the state of my birth, to take an unflinching look at our racist past and present, and to give them courage to walk the unfinished path toward justice. But still, I found it hard to breathe.
I gardened with a single-minded ferocity in the days before our trip, pulling weeds and digging up long taproots as though I could purge the evils from our land with my bare hands. Red dirt began to lodge deep beneath my nails and in the dry creases of my fingers, my forearms bore slashes from the thorny vines that whipped me as I tore them from the earth. There were flowers, thick with the hopeful scent of spring, trying to bloom beneath the tangle of weeds. I yanked and tore in every spare minute I had, stopping only when I noticed blood pouring from a deep slice on my right forefinger.
It felt right to come with dirty, bloodied hands into those sacred spaces in Montgomery.