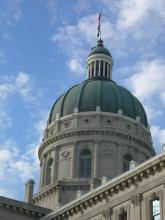 In the legislation, the state's schools and businesses would be allowed to write their own policies on the use of bathrooms or showers based on sex, sexual orientation, or gender identity. They also could decide for themselves what dress code to impose on students and workers.
Under the bill, those rules wouldn't count as discriminatory.
House and Senate Democrats have called for simpler solution, saying a fix could be had by adding four words and a comma: "sexual orientation, gender identity" to the Indiana's civil rights law.