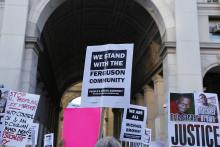 This week, I saw a torrent of debate about who reached for the gun and why police don't shoot people in the leg rather than taking their lives. Neither angle seems to capture the bigger story at play on the evening news and fueling protest marches across Missouri.
On Sunday I preached to my church on race, current affairs and how to process — in a biblically loving way — what has been happening to brothers and sisters in Ferguson. (See video below) Talking about race and current affairs can be taboo in evangelical churches, and it was interesting as I saw a few couples exit the back door as I spoke.
Last week, I penned my thoughts on why we should pray for the saints in Ferguson. It was the outgrowth of my personal frustration and the pain I feel over the misunderstandings on race that can pervade the majority culture. 
Race, Current Affairs & Prayer from Antioch Church on Vimeo.