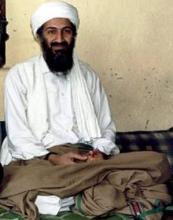 Each year, members of the Religion Newswriters Association, the world's premier association dedicated to helping journalists write about religion, vote on what they believe are the top religion stories of the year. 
This year, more than 300 religion journalists cast their ballots in an online survey conducted Dec. 10-13, choosing the death of Osama bin Laden on May 2 in a covert operation in Pakistan by U.S. Navy SEALs and CIA operatives ordered by President Barack Obama as the top story of 2011.
See the complete list of RNA's top religion stories of the year inside.