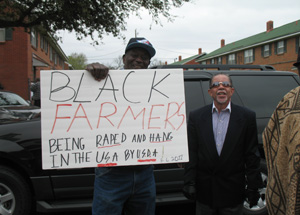 On March 7, 1965, 600 civil rights marchers attempted to walk from Selma to Montgomery, Alabama, in support of equal voting rights for blacks and whites. They were brutally attacked by state and local police and forced to turn back. John Lewis, then chair of the Student Nonviolent Coordinating Committee and now the House of Representatives delegate from Georgia, and Rev. Hosea Williams, from the Southern Christian Leadership Conference, led the march. March participant Rev. James Reeb was beaten to death in the aftermath.
This past weekend thousands marched again in Selma to keep alive the memory of "Bloody Sunday" and the American civil rights movement that has become an inspiration for people's movements around the world -- from South Africa to Egypt. Robert Binion, a peach and watermelon farmer from Clanton, Alabama, attended the 46th commemoration of Bloody Sunday at the Edmund Pettus Bridge this past Sunday. Binion (pictured above) says the struggle for justice continues. "We have to keep fighting for what's ours," he said. "No one is going to give you anything. You have to ask for what's due you and take action if you don't get it."
Binion is a leader from the National Black Farmers Association who won a class-action lawsuit against the Agriculture Department in Washington for discrimination against African-American farmers. They now wait on Judge Paul Friedman of the Federal District Court to rule on secondary late-filing penalties.
The National Black Farmers Association story is told by David Whettstone in Sojourners March 2011 issue:
After a legal struggle in the case of Pigford vs. Glickman -- which centered on such racial discrimination by the Agriculture Department and its failure to respond to complaints between 1983 and 1997 -- a federal judge awarded qualified farmers up to $50,000 each as part of an out-of-court settlement in 1999. However, that settlement was flawed: Many African-American farmers who had experienced discrimination did not get any compensation, due to confusion about deadlines and faulty legal representation. So last December's law (initially known as Pigford II) set up a $1.15 billion fund for a second settlement between African-American farmers and the Agriculture Department.
Read more from "A Step Toward Justice" by David Whettstone.
Rose Marie Berger, an associate editor at Sojourners, blogs at www.rosemarieberger.com. She's the author of Who Killed Donte Manning? The Story of an American Neighborhood available at store.sojo.net.
Got something to say about what you're reading? We value your feedback!