About Jim
Jim Wallis is a globally respected writer, teacher, preacher, and justice advocate who believes the gospel of Jesus must be transformed from its cultural and political captivities. He is a  New York Times bestselling author, widely recognized public theologian, renowned speaker, and regular international commentator on ethics and public life. He is the author of 12 books, including American's Original Sin, God's Politics, The Great Awakening, and The Call to Conversion. His podcast The Soul of the Nation features conversations with grassroots organizers and political leaders and discusses how to take action to promote racial and social justice, life and peace, and environmental stewardship. He served on President Barack Obama's White House Advisory Council on Faith-based and Neighborhood Partnerships and has taught faith and public life courses at Harvard and Georgetown University. "Coach Jim" also served for 22 seasons as a Little League coach for his two baseball playing sons.
In 2021, after founding and leading Sojourners for 50 years, Rev. Jim Wallis accepted an invitation from Georgetown University's McCourt School of Public Policy to serve as the inaugural chair and founding director of the Center on Faith and Justice. You can contact the center here. He continues to engage with Sojourners as founder and ambassador to the mission — his written work will continue to appear in Sojourners and he continues to be a key partner in coalition work. His presidential successor is Rev. Adam Russell Taylor, an ordained Baptist minister, author, and experienced leader who Wallis met 20 years ago while teaching a course at the Harvard Kennedy School.
Podcasts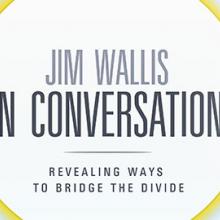 President and founder of Sojourners, Jim Wallis explores faith, justice, and the moral choices behind today's headlines in this series. In each episode, Jim sits down with an inspiring guest; from Michelle Alexander to Margaret Atwood to Rev William Barber, they discuss their deepest moral convictions and how they are putting them to work in the world.
The Soul of the Nation with Jim Wallis informs and inspires everyone from grassroots organizers to political leaders to examine our priorities in meeting the biblical call for social justice and — from that examination — to take action to promote racial and social justice, life and peace, and environmental stewardship.