Keeping the peace under an oppressive status quo and accepting things as they are isn't truly peace.
Two years after sexual violence accusations emerged, Savage plans return to ministry.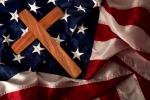 People of faith outside conservatism have taken up the fight for religious freedom in a wide variety of contexts.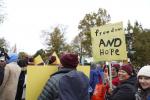 Demonstrators held signs of support for DACA recipients, families, and immigrant communities across the country, putting pressure on Congress to ensure the existence of DACA for future generations.
Article
Unfortunately, Romans 13 is often interpreted by those who favor obedience to the status quo as saying that God demands that we always submit to the authorities, because their power comes from God. The most egregious example of this position in recent months is when children were being torn away from their parents at the U.S.-Mexico border, and then-Attorney General Jeff Sessions and then-White House Press Secretary Sarah Huckabee Sanders called family separation "biblical," citing Romans 13.
Jim Wallis
President & Founder
Jim Wallis is a New York Times bestselling author, public theologian, speaker, and international commentator on ethics and public life.
Sojourners Magazine
Four artists who chose to turn trauma into sights to behold.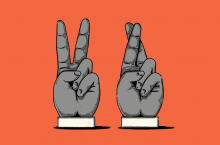 A Palestinian state is as necessary for peace as a secure Israel.
Terrence Malick's "A Hidden Life" provokes difficult questions, doubt, and belief. 
James Turrell's installations limit what viewers see, creating opportunity for beauty and chaos. 
"Everyone is welcome to bring their own traditions; only sexism, racism, homophobia, and other forms of exclusion are off the table."
The HOPE Center of First Corinthian Baptist Church in Harlem, N.Y. is working to make mental health resources available to their congregation and community.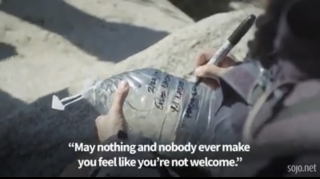 As our current media and political narrative from the border paints a grim picture, a look at how advocates like Border Angels are working to offer a different kind of welcome—