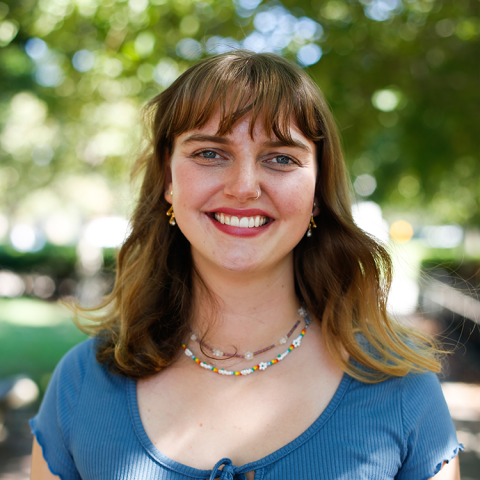 Greta Lapp Klassen (she/her) grew up in Goshen, Ind., and recently graduated from Goshen College with majors in English and art and a minor in writing. Between high school and college, Greta did a service year in Bolivia with Mennonite Central Committee, living and working in Santa Cruz de la Sierra. While in college, Greta served as the executive editor of her school's newspaper, The Record; during her time on staff, she wrote for every section of the paper (except sports), worked on the layout team, and contributed illustrations and comics. She also served as the English department's Horswell Fellow for two years, organizing and running Goshen College's in-house publishing press, Pinchpenny Press. She is passionate about reading and writing fiction, and she published a collection of short stories, A Prayer (for any God who finds themselves available), with Pinchpenny Press her senior year.
Greta was also involved in music during college, playing violin in the orchestra and singing in the upper voices choir. She was a leader of Goshen Monologues, a group that organizes an annual storytelling project inspired by Eve Ensler's The Vagina Monologues and she won the 2022 C. Henry Smith Peace Oratorical Contest for her speech "Humanizing Our World, One Walkway at a Time." Last spring, she exhibited a series of six acrylic portraits for her senior art show, and enjoys painting, making collages, and perfecting her technique on the potter's wheel when she has the time.
Greta also likes to bike, and in the summer of 2021, she rode across the country with the Anabaptist Climate Collaborative to spread awareness about climate change and learn how it is affecting different parts of the country. In her free time, she loves to swim, bake, and catch up on all the pop culture and pop music that she was woefully unaware of during her childhood (Recent discoveries include *NSYNC, One Direction, and Carly Rae Jepsen).