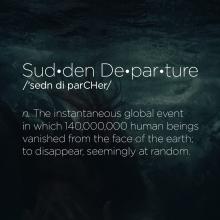 Editor's Note: Spoilers ahead! You've been warned.
Over the past eight episodes of The Leftovers, HBO's latest drama based on Tom Perrotta's play of the same name, viewers have been treated to a case study in grief and faith in the midst of a life-changing event. Unlike the Left Behind series, which incorporated Christian triumphalism with terrible theology, The Leftovers examines the deeper human and spiritual issues of what would happen were two percent of the population to suddenly disappear. It is powerful and beautiful and really hard to watch (especially Episode Five). It asks the question: does life go on when your world is changed forever?
The show offers a variety of responses to the Sudden Departure of October 14: Kevin Garvey, the police chief who seems to be losing his mind after his wife leaves him for a cult and after his father needs to be committed; Nora Durst, who's lost her entire family, so she keeps everything exactly as it was when the Sudden Departure occurred; Rev. Matt Jamison, Nora's brother whose faith has been shaken because he was not taken; the town dogs who have become feral; and finally, the creepiest citizens of Mapleton, the Guilty Remnant, or the GR as they're "affectionately" known.
This past week's episode gave us a greater understanding of the GR. Although the nihilistic views of the Guilty Remnant are quite different from those of Christianity, I was struck by their powerful and strategic mission of witness. The cult was formed out of the recognition that everything changed on October 14 and that to pretend otherwise was foolish. The group, in their white clothes, their silence, their stripped-down existence, bears witness to the fact that they are living reminders of what happened. They are fundamentalists about their cause and willing to die for it — even if that death comes from their own hands.