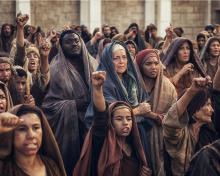 When The Bible miniseries premiered two years ago, controversy swirled around its depiction of a dark-skinned Satan who some said resembled President Obama, as well as its portrayal of white main characters in the Moroccan landscape.
Fast-forward to the premiere of the sequel, A.D. The Bible Continues, on Easter Sunday (April 5), and you'll see a decidedly more multicultural cast, the result of "honest" conversations between black church leaders and the filmmakers, Hollywood power couple Mark Burnett and Roma Downey.
"For too long religious programming has neither reflected the look of biblical times or the diversity of the church today," tweeted the Rev. Barbara Williams-Skinner, a Maryland-based black activist, writer and scholar.
"We made this point to Mark and Roma after #BibleSeries, and quite frankly they listened. I'm glad for that."
Now, in a partnership with the 12-part NBC miniseries, an African-American Christian publishing house will host online resources to help viewers connect the holy book to Africa.