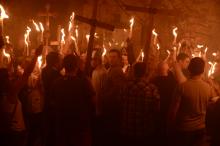 Archaic prayers, hidden keys, and secret religious orders — such are the elements of the latest episode of the USA Network's biblical conspiracy action series Dig.
Add in a modern re-enactment of one of the most harrowing stories in the Hebrew Bible, and the result is a swirling, baffling stew of religious themes and imagery.
This is your spoiler alert! Read on if you are up to date on Dig or a glutton for punishment.
"It's all about the End of Days, the Second Coming, Armageddon, the Rapture," Debbie (Lauren Ambrose) says in what is the clearest explanation by any character of what is going on in Dig to date.
"In order to bring about the Second Coming, the Temple in Jerusalem needs to be rebuilt."
Here's a quick summary of some of the religion references in this week's episode: