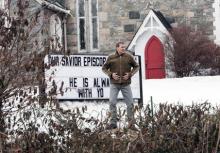 HBO's "The Leftovers" is the feel-good series of the summer, if your summer revolves around root canals and recreational waterboarding.
Indeed, it's pretty grim stuff — but quite engrossing and worth your time, thanks to intense performances by Justin Theroux and Christopher Eccleston, and the way creators Tom Perrotta, who wrote the book on which the series is based, and Damon Lindelof, best known for screwing up the end of "Lost," unflinchingly tackle the nature of grief and the limits of faith.
Can you call it an apocalypse if you can still get a decent bagel afterwards? It's three years after what has been termed the Sudden Departure, when 2 percent of the world's population — Christians, Jews, Muslims, straight, gay, white, black, brown, and Gary Busey — suddenly disappeared.