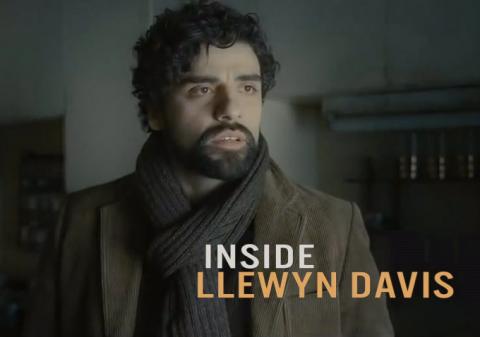 INSIDE LLEWYN DAVIS, the new Coen brothers film, is the mournful tale of a folk musician too dedicated to his art to make money or to accept love when it's offered him. It has gorgeous music, performances that are like watching characters step off the pages of a Joseph Mitchell New Yorker story, and language that is exquisite, but not so much that we don't believe it. A common response to Inside Llewyn Davis is that it's a pessimistic film, with characters so self-centered and worn down by money and the lack thereof that they cumulatively produce a world of no hope.
Many assert that the Coen brothers have pitched their tent as the anchor tenants of cinematic melancholia—Fargo's bleak focus is a family utterly destroyed by financial pressures and the inability to know where or how to ask for help; Barton Fink's eponymous protagonist finds his dream writing contract ends up a descent into hell; and The Man Who Wasn't There is finally executed because he doesn't see the point in defending himself. Llewyn Davis is an impetuous man in a fickle industry, too out of touch with his own humanity to want to see his own child, and he is beaten up for heckling a fellow musician. And so people come out of this film depressed. To which my minority response is simple: Look closer. Inside Llewyn Davis is full of life and second chances and, yes, hope for artists. Davis has friends who care, and there are people who get what he does. Who cares if the world isn't listening? That was never a measure of great art anyway.
Fargo also includes the joy of a female cop who loves the little things and stands against injustice; The Man Who Wasn't There is full of wonder at the weirdness of life; and Barton Fink understands that the creative process is often nightmarish for the creator. True Grit essays the loving bond between surrogate father and daughter; A Serious Man has a rabbi who understands that, after all the questions of complex existentialism, the good life is found in helping others; and The Hudsucker Proxy, Raising Arizona, and O Brother, Where Art Thou? most of all are just in love with the idea of life as a comedy. The Coens realize that sometimes, of course, comedy is bleak. But the point of gargoyles is to remind us that sacred and profane coexist: Living among angels does not mean being without sorrow. Life isn't meant to be The Wizard of Oz, all external beauty and fake magic. Real happiness is found in living from the light and shadows inside out. 
Gareth Higgins is a northern Irish writer based in North Carolina. His book Cinematic States is available from www.cinematicstates.com.