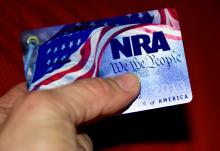 Tuesday was the 84th birthday of Rev. Dr. Martin Luther King, Jr. I don't know about you, but I miss his words, so I offer a few. King said "people often hate each other because they fear each other, they fear each other because they don't know each other, they don't know each other because they cannot communicate, they cannot communicate because they are separated." I would add to his words: 'and in that separation they seek guns.' As an evangelical Christian, I'm going to make this theological. 
Wayne LaPierre, executive vice president of the National Rifle Association, said this as his response to the massacre of children at Sandy Hook elementary in Newtown, Conn.: "the only thing that stops a bad guy with a gun is a good guy with a gun." 
That statement is at the heart of the problem of gun violence in America today — not just because it is factually flawed, which of course it is, but also because it is morally mistaken, theologically dangerous, and religiously repugnant.