Chris La Tray is a Métis storyteller, a descendent of the Pembina Band of the mighty Red River of the North, and an enrolled member of the Little Shell Tribe of Chippewa Indians. He writes the Substack newsletter "An Irritable Métis."
Posts By This Author
My Métis People Blended Christianity with Their Beliefs. I Cannot.
10-31-2022
"I struggle with my encounters with Indigenous Christians because it feels like the ultimate betrayal."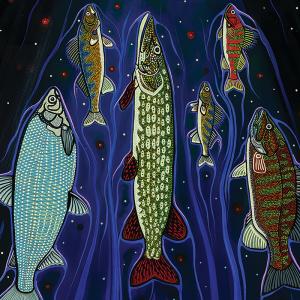 TO THE LEFT of a buffalo photograph on my wall, a rosary hangs from a thumbtack. Frequently, my eyes linger there. It came to me a couple of years ago on my birthday as part of a gift from my mother — looped through the ribbon of a wrapped box that contained a tea set. When I held the rosary before my face, I found it curious. My mother explained that it had been my late father's, and that it was one of his most prized possessions. I was a little stunned because I had never seen it before. It was a gift, my mom continued, made by his grandmother who died two years before I was born. Now, it had come to me.
My great-grandmother's parents were part of a group of 25 Red River Métis families who settled on Spring Creek in central Montana in 1879, an area now known as Lewistown. They, like all the tribes of the region, were pursuing the final dwindling herds of buffalo. It was a tumultuous time to be Indigenous, with settlers flooding the landscape from all points east and gobbling up land, whether it had been promised to Indians or not.
The origins of my Métis people can be found in the late 1600s, and likely earlier, when the first European traders first began establishing trading posts in the Red River Valley. This region, named for the mighty Red River of the North, is centered at what is now Winnipeg, Manitoba, and extends into today's Minnesota and North Dakota. These early Europeans, mostly from France — with some coming from Scotland, Wales, and England — married into the Indigenous people already inhabiting the region: Cree people and Ojibwe people. From these unions sprang descendants who created their own unique, mixed-culture people — the Métis.