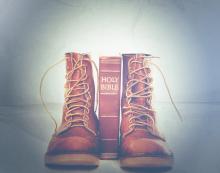 Dear Missionaries,
I like to tell people I'm a missionary convert, because I wear this genesis of my faith journey proudly, like a badge of honor. I heard the story of Jesus from your lips, sang the songs of worship in your language, and prayed for the concerns in your heart. You taught me how to be Christian.
I learned from your lavish generosity and boundless love and affection. I also learned how to do Christmas. One day in my freshman year of high school, I asked my Chinese parents if we could find a Christmas tree. This was before Christmas became commercialized in Taiwan, so all I could find was a tacky, tiny, plastic tree, which I set up delightfully in the corner of our living room. I arranged neatly wrapped fake presents under my wannabe tree and meticulously set up some lights. I longed for that warm feeling I felt in your homes, the atmosphere I saw in American movies. I wanted to be like you; if only I could have convinced my parents to do Christmas like you did, with gifts, candles, and prayers.
Little did I know your celebrations were crippled by your overseas living because, like me, you also could only find dinky little plastic trees. When I visited your home country, I saw the full potential of CHRISTMAS unleashed, with real trees as tall as houses and white lights, icicle lights, flashing lights, lights shaped like reindeer, elaborate nativity sets, and ridiculous amounts of presents and candy. I thought, wow, is this how the Christians do Christmas?