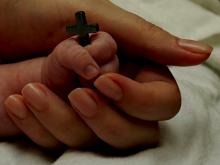 Here's the thing: I live in a country that is predominantly Buddhist. Here, little kids are taught to hold incense and kneel and bow at ancestor tablets and a variety of gods. Do you know how cute it is to see a little kid praying with pure devotion to a Buddhist god? It is JUST AS CUTE as the blonde headed little girl singing Jesus Loves Me.
A child's faith is not a testimony of the power of God to evangelize them. It demonstrates how malleable and impressionable children are to the faith values exposed to them at a young age. Children must trust wholeheartedly in order to survive. Their dependence on adults undergirds their entire worldview. Like it or not, as parents we are entrusted with this enormous responsibility to build the structures of faith in which our children will inevitably live fully into, especially when they are little.
Because of this drastic inequality of power between adults and our dependent children, we must take tender care to wield our tremendous spiritual influence on them in a way that is respectful of their autonomy, that listens to their concerns, that empowers them to grow into wholeness, and to ultimately make their own faith choices. We must always be aware of the power differential even as we act as the portal through which they come to know God.