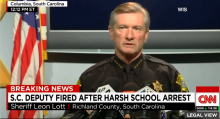 South Carolina sheriff Leon Lott announced Wednesday afternoon that Ben Fields, the police officer who violently arrested a 15-year-old black female student at Spring Valley High School, has been fired.
"It's not what I expect from my deputies, and it's not what I tolerate from my deputies," said Lott.
Although Lott removed Fields from his police force, he also commented on the behavior of the student.