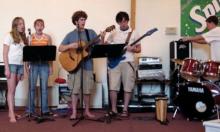 Last Friday, on his weekly show Real Time with Bill Maher, the not-so friendly atheist, Mr. Maher took issue with the Santorum families decision to homeschool their children. Here's what he said:
"But I bring up the old tale of the poisoned apple — no, not "Snow White," that's a fairy tale — because the Adam and Eve story is taken literally by half the country and it's no coincidence that the type of tree which god forbade Adam and Eve eating from was the Tree of Knowledge. Rick Santorum homeschools his children because he does not want them eating that f--king apple. He wants them locked up in the Christian madrassa that is the family living room not out in public where they could be infected by the virus of reason. If you're a kid and the only adults you've ever met are mom and dad, and then they're also the smartest adults you've met, why not keep it that way? Why mess up paradise with a lot knowledge? After all, a mind is a terrible thing to open."
Santorum took exception to these comments. For good reason.
My parents made the decision to homeschool three out of four of their children at some point during our K-12 years. They invested both time and resources because they believed it was the best thing they could do for our development and education at that time.