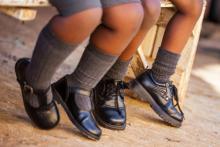 I remember the first time I ever got straight A's. It was also the last time.
I was in Mrs. Becker's 4th grade class at John Story Jenks School in Philadelphia. I was always good at reading, I LOVED science projects, and art class was fun — but math? Ugh. Math was my nemesis. In 4thgrade the times tables felt as insurmountable as that dang rope everybody else could whiz up and down in gym class. I just couldn't figure it out. In fact, to this day, I haven't figured the rope.
So, my father became my times tables drill sergeant and resorted to straight memorization tactics, making me write each one 10 times. Then he sat across from me at the dining room table and drilled me on the times tables until I said them in my sleep. It was brutal … and oddly, one of the fondest memories of my elementary school years. Not only did I master multiplication, but I also learned something much more important. When my report card came back that quarter with straight A's, I learned that I could learn!