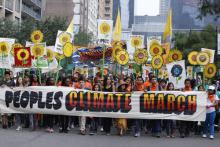 More important than the celebrities or politicians marching on Sunday, members of the faith community came out in droves to support the rally. The Huffington Post reported on the wide variety of faiths that were represented at the march. A reporter from Christianity Today wrote, "Almost every conceivable strand of society was represented in the huge column of humanity — not only were there groups of Methodists and Baptists rubbing shoulders with Catholics and Presbyterians, there were Christians marching with Muslims, Jews, pagans, atheists and Baha'i. Anti-capitalist protesters stood alongside 'Concerned Moms for the Climate;' doctors, firemen, and vegans held banners next to indigenous people and victims of Hurricane Katrina."
The reasons that thousands of individuals came out to the streets of New York City on Sunday are vast and personal. But for many members of the faith community, spreading awareness about the decaying state of God's creation was a moral obligation. Signs such as "Jesus Would Drive a Prius" and a life-size moving Arkrepresented the importance of taking care of God's creation throughout the rally. In a recent interview with the National Catholic Reporter, Steffano Montano, a theology professor at Barry University in Miami, said as a Catholic, there's a spiritual responsibility to combat climate change.
"By understanding creation, we can come closer to the Creator. It's an added spiritual responsibility. Justice for the earth is something that affects everybody. It's going to affect my daughter, my grandkids. It affects the poor in ways we are still trying to come to terms with. And it's our fault. So that's why we're here. It's on us to make a difference," said Montano.