The following reflection is a sidebar for "A Watershed Moment" by Ched Myers.—The Editors
I began to know my watershed—the James River in Virginia—when I realized that recovering "creatureliness" is at the core of our discipleship. I learned that my life is utterly dependent upon relationships with countless others, including microscopic organisms in the soil. It's this grand web of mutuality that forms our fundamental context. Watershed discipleship is contextual discipleship. If we seek to follow Jesus in context, nothing is more contextual than a watershed.
Participating in God's action to restore the world requires us to have a place. Churches have the capacity to become communities of alternative economic and political practice, embodiment, and imagination. To become communities of justice and reconciliation, we need to embrace the simple disciplines of table fellowship, relationship to water, growing food, and ecological literacy. That's the path of watershed discipleship.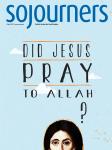 This appears in the May 2014 issue of Sojourners
Got something to say about what you're reading? We value your feedback!