Charles Redfern is a community leader, writer, and clergyman, now serving as the interim pastor of the Quaker Hill Baptist Church in Waterford, Connecticut. He sits on the boards of three environmental organizations and has written extensively about the intersection of religion and politics, with articles appearing in the Huffington Post, truthout.org, Christian Ethics Today, and Beloved Planet.
Posts By This Author
What 'Normal Politicians' Should Look Like
08-26-2014
The 2014 election-year posturing forces me back to November, 2010, when a living parable walked into freedom after 15 years of house arrest. Aung San Suu Kyi, Burma/Myanmar's opposition leader, waved to her supporters and awakened our stagnant conscience.
Suu Kyi ranks among the elite of real-life parables. "I should be like them," we typically think. "Everyone should." They're the true norm. Saint Francis was one such parable. So was Gandhi. So were Mother Theresa, Nelson Mandela, and Alexsandr Solzhenitsyn. Pope Francis may be another. They shame our insipid, glitz-and-glitter leaders, whether they're overpaid CEOs or I'll-say-anything-to-get-votes candidates. They show us that politics is more than winning elections and business is more than making money.
In fact, they shame us all. We reward the attack ads. We elect the politicians and hire the CEOs. We diminish human beings to mere consumers and interest groups and file them into marketing categories. We breed our rant-and-rave culture and turn it loose.
Why I'm Praying President Obama Will Reject Keystone XL
04-25-2014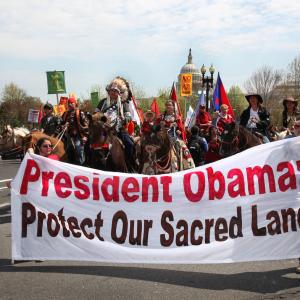 Editor's Note: Today's #EarthWeek action: Join us for a prayer conference call at 2:30 pm Eastern Time as we hear from the evangelicals standing against the Keystone XL pipeline, and pray a blessing over them and their work. Click here to RSVP.
Maybe I'm a near-sighted, Bible-thumping holy roller, but I can't see angel wings flapping on oil executives. No doubt some are community pillars. They're Little League umpires, tithers, and PTA volunteers. They've got lovely houses and manicured lawns.
But they're also flawed like the rest of us, and their professional bias screens out the obvious: The proposed Keystone XL Oil Pipeline would do little good and could wreak enormous harm. I'm compelled to halt my timid thy-will-be-done prayers and join a band of evangelicals boldly pleading for the permit's denial. We've even launched a Facebook page, called "Pray No KXL."