Dr. Raj Nadella serves as Assistant Professor of New Testament at Columbia Theological Seminary in Decatur, Ga. His research and teaching interests include Mikhail Bakhtin and Biblical Studies and Postcolonial Readings of the New Testament, especially the parables of Jesus. His research focuses on New Testament perspectives on issues of economic justice and their ethical and theological implications for the church and society today. His first book, Dialogue Not Dogma: Many Voices in the Gospel of Luke was published in 2010. He is currently working on his second book that juxtaposes Matthew's response to the empire with Mark's response to the empire. Dr. Nadella is a member of the Presbyterian Church (USA).
Posts By This Author
Reorienting Ourselves to the Earth
04-21-2014
The accelerated pace of climate change deterioration in recent decades is highlighted in the report by the Intergovernmental Panel on Climate Change that was released in December 2013. This report highlights the alarming rates of carbon emissions in recent years and the massive disruptions to the nature that occur as a result. It warns that the disruptions could affect all areas of life and endanger the world's food supply itself. The worst is yet to come. All this might sound a bit apocalyptic.
Acts 2:14-32 posits a similar scenario. Luke's Peter predicts the signs that will occur in the last days (vv. 19-20). The Sun will turn into darkness and the moon into blood. There will be blood and fire and smoky mist. Joel 3, Luke's source text behind these verses, was intended as a warning about potential disturbances in the natural order. Joel posits such calamities as consequences of human wickedness and calls on the people to alter their ways. Peter warns that such last days are about to arrive. They will be marked by disturbances in the natural order and terrible signs that will precede the day of the Lord. Interestingly, people in Jerusalem have already witnessed such (un)natural phenomena during the death of Jesus (Luke 23:44-45).
Acts 2 parallels the account of disruptions in the nature with the account about the death of Jesus (2:19-24). 
On Scripture: Fear and Wisdom In The Immigration Debate
06-19-2013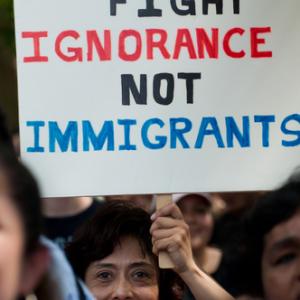 They have many labels. Undocumented immigrants. Illegal Immigrants. Illegal Aliens. Wetbacks. Jan Brewer, the governor of Arizona, recently suggested that most of them are "drug mules." Some have even called them "terrorists." But few are known by their real names or treated as people with real lives.
Most of them live at the edges of the society, under inhumane and dangerous conditions, often separated from their loved ones. For some it may be a choice. However, a vast majority of the 11 million undocumented immigrants in the U.S. are driven to such extremes by factors beyond their control — political crisis, drug-related violence, famine, or eviction from their own homes at gunpoint. Theirs is a story of displacement, of being forced to flee their homes and take risks few would under normal circumstances. They are victims, not the offenders they are often made out to be. Still, for many, it is a story of being treated by the border security as violent criminals, being stripped of their clothes and dignity and separated from their families and traumatized in detention centers. It is also a story of ostracizing and exploitation by parts of the society. The labels and stereotypes about them "otherize" them in ways that prevent their full participation in the society. Injustices like these are the reason why NETWORK's Nuns On The Bus have been touring across the country speaking out for immigration reform.