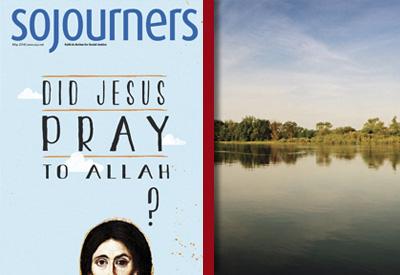 OUR HISTORY IS increasingly hostage to a deep and broad ecological crisis. Stalking us for centuries, it is now upon us in the interlocking catastrophes of climate destruction, habitat degradation, species extinction, and resource exhaustion. Some call it "peak everything."
"All we have to do to destroy the planet's climate and biota and leave a ruined world to our children and grandchildren," concluded environmental policy analyst James Gustave Speth in The Bridge at the Edge of the World, "is to keep doing exactly what we are doing today ... to release greenhouse gases ... impoverish ecosystems and release toxic chemicals at current rates, and the world in the latter part of this century won't be fit to live in."
Our Christian faith and practice now unfold either in light of or in spite of this crisis. Our choice is between discipleship and denial.
Two trends among thoughtful Catholics, evangelicals, and other Protestants in North America over the last quarter century are helping awaken us to "response-ability" in the face of these inconvenient truths. One is the spread of contextual theology, which demands both analysis and engagement with social realities around us. The other is how "creation care" has gained broad traction among churches.
But these trends need to be integrated. Contextual approaches have tended to address social, economic, and political issues apart from ecological ones. And environmental theologies are not contextual enough: often too abstract (debating "new cosmologies"), focused on remote symptoms (tropical rain forests or polar ice caps), or merely cosmetic ("greening" congregations through light bulb changes while avoiding controversies such as the Keystone XL pipeline).
Our "all hands on deck" moment requires a practical approach that challenges and equips our churches to learn how to "serve and preserve" the earth (Genesis 2:15). The best way to do that is to focus on the particular places in which we dwell.
A quarter century ago, Kentucky farmer Wendell Berry argued that the question "is not how to care for the planet but how to care for each of the planet's millions of human and natural neighborhoods, each of its millions of small pieces and parcels of land, each one of which is in some precious way different from all the others."
But Berry recognized that our culture of displaced and displacing mobility has severed most of us from rootedness in a home place, even as it has colonized the homelands and destroyed the habitat of others. "Placelessness" is the primary form of First World alienation, Berry contends; we don't stand against ecocidal policies because we have no place to stand.
The pathology of placelessness can only be healed by disciplines of "re-place-ment." Covenanting with specific land and nurturing relationships with a biotic community can challenge our dysfunctional theology of presumptive superiority. And embracing the long-term project of living sustainably somewhere can wean us off our addictive-compulsive quest for infinitude.
WE HAVE LOST our way as creatures of God's biosphere, but the map woven into creation can lead us home. In Boundaries of Home, Doug Aberly contends that the old/new tradition of bioregionalism holds the key to our survival as a species. It also represents an opportunity for the next great renewal of the church—in light of, not in spite of, our ecological crisis.
Kirkpatrick Sale's 1985 primer Dwellers in the Land defined bioregionalism this way:
... bio is from the Greek word for forms of life ... and regionis from the Latin regere—territory to be ruled ... [Together they convey] a life-territory, a place defined by its life forms, its topography, and its biota, rather than by human dictates; a region governed by nature, not legislature. And if the concept initially strikes us as strange, that may perhaps only be a measure of how distant we have become from the wisdom it conveys.
WE CAN BE even more specific in re-mapping contextual theology and practice by focusing on what is most basic to life: how water flows.
John Wesley Powell, the first non-native person to raft successfully down the Colorado River, in the 1860s, gave the first modern definition of a watershed as "that area of land, a bounded hydrologic system, within which all living things are inextricably linked by their common water course and where, as humans settled, simple logic demanded that they become part of the community."
The inviolable fact is, wherever we reside—city, suburb, or rural area—we are deeply intertwined within and dependent upon this "bounded hydrologic system." Precipitation hits ridges and flows either into our watershed or a neighboring one and is drained by a local creek, river, or stream (even if buried under concrete). The area covered from the water's origination in the hydrological cycle to its end point in a lake or sea represents a unique mix of habitats that influence each other: forests and wetlands, fields and meadows, rivers and lakes, farms and towns. Each of us lives in a watershed, no matter how ignorant we may be about it.
The 2,110 watersheds in the continental U.S. come in all sizes. The Mississippi Basin is the third largest watershed in the world, draining 41 percent of the lower 48 states into the Gulf of Mexico. The Ventura River watershed where I live is a scant 227 square miles. A sub-watershed can be as small as your neighborhood.
Brock Dolman, a California permaculturist and co-founder of the Occidental Arts and Ecology Center, argues that "watersheds underlie all human endeavors and form the foundation for all future aspirations and survival." Cupping his hands, he speaks about a cradle, or "basin of relations." Every living organism within this basin is interconnected and dependent on the health of the whole. This form of "local, intentional community," he says, "should embody the geographic scale of applied sustainability, which must be regenerative."
I BELIEVE THIS is the best paradigm for a contextual theology and practices of creation care, grounded in disciplines of "re-place-ment"—or, in other words, "watershed discipleship." In the education and organizing I do, it's become our framing slogan. And it's an intentional triple entendre.
First, it recognizes that we are amidst a watershed historical moment of crisis, which demands that environmental justice and sustainability be integral to everything we do as Christian disciples—and as citizen inhabitants of specific places.
Second, it acknowledges the inescapably bioregional locus of an incarnational following of Jesus: Our discipleship necessarily takes place in one or more watersheds.
And third, the phrase suggests that we need to be disciples not only in but also of our watersheds.
Our challenge today, to paraphrase a syllogism offered in 1968 by Senegalese environmentalist Baba Dioum, is this: We won't save places we don't love; we can't love places we don't know; and we don't know places we haven't learned.
Watershed literacy was key to the survival and flourishing of all traditional societies. It remains so today.
"RE-PLACED" ECCLESIAL communities can make an enormous contribution to the wider struggle to reverse our ecological catastrophe—and can recover the soul of our tradition in the process. Watershed discipleship invites Christians to "re-inhabit" that corner of creation in which we reside by apprehending and engaging everything within it in terms of ecological resiliency and social justice.
This approach can nurture several key renewals:
Theological re-grounding. A watershed paradigm recovers the heart of the biblical tradition while challenging dysfunctional characteristics of industrial civilization. It reasserts the priority of creation over all human ideological and hegemonic claims, recovers incarnation in the face of the placeless theological abstractions of modernity, and remembers that the people of God covenanted with specific land as caretakers of the divine gift.

At the beginning of the gospel, Jesus is baptized into the Jordan River watershed, following in the footsteps of the wilderness prophets; at the end of Revelation, the city is transfigured into a garden watered by the "River of Life." From Noah to the New Jerusalem, our tradition is about the redemption of the terrestrial.
 
Re-placed economics. By measures of both social justice and ecological sustainability, globalized capitalism isn't working. A watershed focus compels us to reckon with the abundance and limitations of what Wendell Berry calls the "Great Economy" of nature. The local food movement asks what can be harvested, produced, and consumed sustainably in a given bioregion. This logic should be extended to every aspect of economic life, from resource extraction to waste disposal, emphasizing the local and avoiding the exotic.
 
Political imagination. Daniel Kemmis, former mayor of Missoula, Mont., argues in Community and the Politics of Place that public life can be transformed through a bioregional approach. A "re-inhabitory politics" grounds civic culture and social planning in "the efforts of unlike people to live well in specific places." Indeed, watershed mapping helps us reimagine "political space." Our two-dimensional political maps enshrine problematic historical legacies of conquest and colonization, while their straight boundary lines are abstractions that alienate us from the real topography and hydrology that sustain us. Look at a recent watershed map of the U.S. How might political culture change if the basic unit of governance were "nature rather than legislature"? Nor is this NIMBYism, since the ecological and social health of each watershed is connected with every other.
 
Social justice. Discipleship never allows us to escape from social issues such as race and class, as is too often the case with conservationist agendas. Every watershed bears the wounds of social disparity and exclusion, both historic and contemporary, which also must be mapped and transformed. In particular we need to learn, love, and help preserve the legacy of indigenous inhabitants on whose traditional lands we are guests. Central to a watershed ethos should be commitments to restorative justice for all those displaced in the past and marginalized in the present.
 
Ecclesial renewal. The ancient notion of church as parish—as placed community—still survives, if atrophied by market-driven church shopping and commuter mobility. Our spirituality, liturgy, and discipleship practices can and should both reflect our watershed and build literacy in it.

An ecological hermeneutic for reading scripture will help bring this task alive. For example, rituals such as baptism can be moved outside to a creek, lake, or beach (or those waters can be brought into church).

Here in the Ventura River watershed in California, friends at the Abundant Table Farm Project are challenging Episcopalians to "localize the liturgy" by knowing where our bread, wine, candles, and tapestries come from, who made them, and under what conditions. Reconnecting our sacred symbols with their bioregional materiality stimulates conversations about food justice and local economy, and in turn renews our appreciation for those symbols. The church kitchen can become a venue for re-skilling around cooking and preserving local foods, as under-utilized elders teach the older arts of home economics. Significant parts of the lawn or parking lot can be repurposed for community gardening, native plants cultivation, and permaculture classes. What an exciting future: Transition church as eco-village!
IN SO MANY ways, our churches are well situated to become centers for learning to love our places enough to defend and restore them. Christians have a deep culpability in the present crisis, but also ancient resources for the deep shifts needed. The watershed paradigm is radically contextual yet intrinsically universal, inviting us as church to let our resident landscapes shape our imagination and material habits. To this end we are building a North American alliance for watershed discipleship to build consciousness and nurture disciplines.
We are, says Brock Dolman, "perched on the tipping point of a watershed moment ... Now is the time to bring our communities together to set in motion plans and processes that ensure our watersheds will remain healthy in perpetuity. Your home basin of relations is your lifeboat."
For biblical people, this image brings to mind Noah's ark and gospel stories of disciples crossing "to the other side" (Mark 6:45). The crisis is now. Let us embark on our watershed arks, and follow Father Noah and Brother Jesus into the coming storm.
Ched Myers (ChedMyers.org) works with Bartimaeus Cooperative Ministries in the Ventura River watershed of Southern California. You can find more on watershed discipleship at www.watersheddiscipleship.org.
Read the sidebars for this article: