The following reflection is a sidebar for "A Watershed Moment" by Ched Myers.—The Editors
I LIVE IN THE Lake Champlain watershed in Vermont. It's important for me to think about water as belonging to God. It should not be privatized, bottled and sold, or polluted for private benefit. It should not be illegal to collect rain water; poor women should not have to walk great and dangerous distances to collect drinking water for their families.
As I have studied toxicology, I have learned that if I have a headache and choose to take ibuprofen, the fish in my watershed are also taking ibuprofen. In particular, I have been looking at what happens as plastics are made and what happens when we're finished using them, as they wash out from landfills into the oceans, and as the byproducts of their combustion blow out of smokestacks from incinerators. I study the consequences of disposable culture on our water, and how that impacts both human and wildlife health.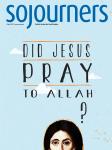 This appears in the May 2014 issue of Sojourners
Got something to say about what you're reading? We value your feedback!