All Americans live in an area serviced by one watershed or another. A watershed, which is an area of land in which all precipitation and water gathers, is a complex, interconnected system upon which humans depend for life. However, destructive human activities and pollutants are threatening our watersheds, which will have broad implications for the future of humanity.
Ched Myers' article "A Watershed Moment" (Sojourners, May 2014) challenges readers to engage in "watershed discipleship," a form of creation care that extends beyond simply exchanging one's light bulbs to engaging in the care of one's local watershed. The following video explains what a watershed is and how it connects to our daily lives.
Use this handy tool to find out which watershed you live in, and then do your part to care for it.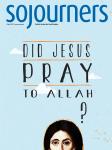 This appears in the May 2014 issue of Sojourners
Got something to say about what you're reading? We value your feedback!