Climate change
Like budget decisions, climate decisions are moral decisions. Decisions that impact the environment reveal our moral commitments.
1. PHOTOS: Painter Immortalized Last Meals of 600 Prisoners Put to Death
Artist Julie Green collects information published in death-row inmates' death notices about their last moments. She then puts cobalt blue paint to porcelain plates to illustrate their final meals — from pizza and birthday cake to Jolly Ranchers. Her goal: "to continue paining fifty plates a year until capital punishment is abolished."
2. Net Neutrality Victory Is Civil Rights History in the Making
"Today's civil rights activists have a much more powerful tool at our disposal – the open Internet. Our ability to be heard, counted, and visible in this democracy now depends on an open Internet, because it allows voices and ideas to spread based on their quality – not the amount of money behind them."
3. WATCH: It Turns Out Lighting Affects Color
And lots of other things, actually. If you're still hashing it out with your roommates or spouse about the color of #TheDress, here's science (and music!) to the rescue. (Team #whiteandgold!) Also, if you need more science, you can always ask Science Mike, who offers this great video explainer.
4. Activists Warn of End of Christian Presence in Middle East
Following ISIS' kidnapping of at least 90 Assyrian Christians in an attack on about 35 mostly Assyrian settlements, groups in the region warn that we may be witnessing the end of Christian presence in the region: "After the Iraq war of 2003, and since the Syrian crisis began, the persecution unleashed on them – including extortion, kidnappings, murder, the ethnic cleansing of entire swaths of Baghdad, the Nineveh plains, and now much of north-east Syria, has been so vast that their very existence in their ancestral homelands is in grave peril."
5. In 23 States, the Largest Religious Group Is Now 'Unaffiliated'
This, according to Public Religion Research Institute's just-released American Values Atlas, which breaks down various religious and political demographics. Find out the largest religious group in your state at the link!
6. WATCH: Jim Inhofe's Snowball Has Disproven Climate Change Once and For All
That one time a United States senator — the one who also happens to be the chairman of the environment committee — threw a snowball while on the floor to dispute climate change. Because snow. 
7. An Anti-ISIS Summit in Mecca
"Whether ISIS's deeds are labeled 'violent extremism' or 'Islamized terrorism,' the conversations in Washington and Mecca had at least one thing in common: They deepened the debate over whether ISIS and its fellow travelers are 'Islamic,' and whether the answer matters in the first place. That debate is not just academic. It has real consequences for how the Islamic State's opponents mount their counteroffensive."
8. VIDEO: Banksy Goes Undercover in Gaza, Releases MIni-Documentary
The unidentified street artist Banksy has re-emerged in Gaza to create a political mini-documentary about life inside the war-torn region.
9. Why We Must Change How We Change the World
World Relief President and CEO Stephan Bauman's new book Possible: A Blueprint for Changing How We Change the World is now out. In this piece, he lays out why he is hopeful about the future of efforts to address injustice: "We are caught in a vicious cycle, a dangerous dynamic that shapes our views about the people who experience suffering. As a result, those trapped in poverty are dehumanized and poverty is dumbed down while good, well-intended people really believe they are caring, world-conscious, and ethical. But change is coming." 
10. 10 Things Catholics Are Tired of Hearing
Why do you worship statues? Why do you pray to Mary instead of God? And more confusion in the Protestant understanding of Catholicism. Handy to bookmark for the next inevitable conversation about the purpose of confession or the Apocrypha. 
Like Jim Wallis, I believe that budgets are moral documents. They reflect our deepest values. Like budget decisions, climate decisions are moral decisions — decisions that affect the environment reveal our moral commitments.
How does Barack Obama measure up on the 'moral leadership for the environment' scorecard?
President Obama vetoed the Keystone XL pipeline on Tuesday. He also forged a historic agreement with Chinese Presidenta Xi Jinping in November to reduce carbon emissions in the U. S. by 26-28 percent from 2005 levels by 2025. He has worked with the auto industry to put historic fuel economy standards into place. When he wasn't able to convince Congress to pass environmental legislation, he worked behind the scenes — using the Clean Air Act of 1970 to set tougher environmental standards. All of these actions give him points for moral leadership.
At the same time, some criticized Obama earlier in his presidency for not doing enough. In 2011, Al Gore published an article in Rolling Stone magazine saying Obama had "thus far failed to use the bully pulpit to make the case for bold action on climate change." During the first two years of his administration, many environmental activists expected more legislation to slow climate change. Cole Stangler argues that, even given legislative obstacles, Obama could have done more through federal agencies.
"This veto is conclusive proof that activism works."
That's what May Boeve, executive director of 350.org, said in response to Obama's veto, which was only the third of his presidency. President Obama rejected the construction of the Keystone XL Feb. 24, angering the Republican majority in Congress and inspiring environmental activists.
"After four years of rallies, marches, sit-ins, and civil disobedience, we're thrilled to see President Obama take an important first step by vetoing this love letter to Big Oil," she continued.
Boeve's comments declare hope to a generation of environmental scientists and activists who have often struggled to draw serious political attention to climate change.  
Republicans in Congress, on the other hand, were deeply disappointed with Obama's behavior.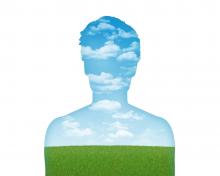 Editor's Note: In this latest edition of our "Disinvest/Reinvest" series, John Elwood reflects on how – and why – he divested from fossil fuels. You can sign up for the final week of our Christian Divestment e-course here.
Investments shape souls. Jesus tells us so.
"For where your treasure is, there your heart will be also." Matthew 6:21
Over the years, these words of Jesus have kept me away from the "merchants of death" and conflict minerals and steered me toward ethical products of many sorts. In recent years, however, a more sinister and pervasive threat has come into focus. Climate scientists in 2014 warned that energy companies like Exxon, Shell, PetroChina and Chevron – which derive their value from enormous reserves of recoverable fossil fuels – will have to leave about 80 percent of those precious reserves in the ground if the world is to have a chance of avoiding global climate mayhem.
That means that four out of every five barrels of oil, or tons of coal, or cubic feet of natural gas that these companies have discovered and developed must eventually be written off.
The market value of fossil fuel reserves today is valued at around $27 trillion, a sum that dwarfs the famous U.S. national debt. This means that there is a very, very bad day of reckoning ahead for someone. Either all of humanity will endure unspeakable suffering, or those who invest in the fossil-fuel companies will suffer huge losses.
It became clear to me that investing in fossil fuels is no longer a retirement strategy or a way of mitigating market risks. It is a decision whether to align my soul with unfathomable harm to virtually all of humanity and to all of God's beloved creation. If I've got my own personal slice of those carbon reserves (whether by buying a share of ExxonMobil or by investing in a mutual fund that does), I make money, or avoid big losses, only if the entire creation groans and suffers under the weight of climate calamity.
By now, you may have heard that Jim Wallis and Sojourners have stopped funding climate change by divesting from fossil fuels. Unfortunately, for millions of Christians who invest at faith-based financial institutions, fossil-free investing just isn't an option.
We've done our research. Of the 13 major Christian investment companies we studied, not a single one offers a way for their members to opt out of fossil fuels. We think Christian investment companies should be the FIRST to stop funding climate change! Read our open letter and sign below.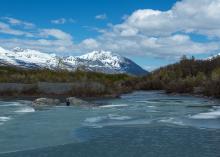 Recently President Obama proposed giving wilderness status to 12 million acres of the Artic National Wildlife Refuge.
Many Republican senators, including Alaska Sen. Lisa Murkowski, strongly oppose the president's proposal. Much of the opposition is expressed as frustration and outrage that the president is hindering Alaskans from having control over their economic future. Sen. Murkowski asserts:
What's coming is a stunning attack on our sovereignty and our ability to develop a strong economy that allows us, our children and our grandchildren to thrive. … It's clear this administration does not care about us, and sees us as nothing but a territory. … I cannot understand why this administration is willing to negotiate with Iran, but not Alaska. But we will not be run over like this. We will fight back with every resource at our disposal.
The ANWR is home to significant untapped petroleum reserves that lie beneath the land the president is seeking to protect. This fight between protecting the ANWR and promoting economic growth and development through oil drilling is one that has been going on between Democrats and Republicans for years.
Alaska Gov. Bill Walker said in a statement he may be forced to accelerate oil and gas permitting on state lands to compensate for the new federal restrictions.
While I believe I understand the arguments made by advocates on both sides, it seems to me there is a fundamental ideological (and possibly theological) premise that often goes unacknowledged in these debates.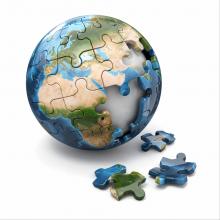 There could not be a more important year for climate action. It's now or never. The future of our planet and the people, places, and things that we love depend on all of us working together to demand a healthy, just, and vibrant planet home. It impacts everything else – immigration and migration due to drought, flooding, sea level rise, and worsening storms; war and conflict over natural resources; access to drinkable water; food insecurity, hunger, and agriculture; disaster relief. It even impacts the sex trade — when women have to walk farther and farther to find water, they're more vulnerable to rape and kidnapping in many regions.
So here we are, now. Governments, scientists, universities, companies, our military, and thousands of non-profit organizations are all scrambling to save the very integrity of God's creation, the composition of the atmosphere God so magnificently created to support life on earth. And Christians are barely even at the table. We need to be at the table.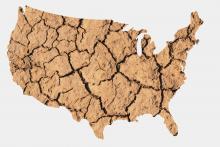 Last night I watched the State of the Union, because I live in D.C., and this is our Super Bowl. My roommate, who works on women's rights, was listening for any mention of her "issues." And I'm no different: I tuned in to the president's address to hear what he would have to say about climate change.
And he did have a lot to say! This is what he said:
"And no challenge — no challenge — poses a greater threat to future generations than climate change.
"2014 was the planet's warmest year on record. Now, one year doesn't make a trend, but this does — 14 of the 15 warmest years on record have all fallen in the first 15 years of this century.
"I've heard some folks try to dodge the evidence by saying they're not scientists; that we don't have enough information to act. Well, I'm not a scientist, either. But you know what — I know a lot of really good scientists at NASA, and NOAA, and at our major universities. The best scientists in the world are all telling us that our activities are changing the climate, and if we do not act forcefully, we'll continue to see rising oceans, longer, hotter heat waves, dangerous droughts and floods, and massive disruptions that can trigger greater migration, conflict, and hunger around the globe. The Pentagon says that climate change poses immediate risks to our national security. We should act like it."
What struck me was that it's now totally normal for the President of the United States to speak firmly and at length about the clear and present danger of climate change.
Look at how far we've come! This is real progress — this is a cultural shift. This is a victory.
But this Monday, I marked Martin Luther King Day by reading the Letter from a Birmingham Jail with members of a neighborhood church. And I heard Dr. King admonishing me for my celebration.
Pages