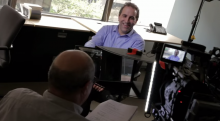 Robert Kenner is the director of the new corporate spin documentary Merchants of Doubt, now in theaters. The film explores how representatives of large industries create doubt on contentious issues like climate change by presenting themselves to the media as independent researchers. Kenner's previous film, Food Inc., examined similarly sticky issues of truth and transparency in the food industry. Sojourners sat down with Robert Kenner after Doubt's Washington, D.C., premiere to discuss the nature of doubt and the rise of corporate involvement in media narrative-making. 
This interview has been edited for length and clarity.
Abby: Why did you want to use the tobacco industry to introduce audiences to the world of corporate spin? And why go from there to climate change?
Kenner: I see this as a film about this class of doubters, how there are these very talented people who are very successful at what they do. We just had a screening at the Columbia Journalism School, and someone there said that for every journalist, there's 4.5 PR reps.
There used to be more journalists than PR reps — and some of these reps are now being paid by the people they used to investigate. So in effect, we're looking at multiple industries. We could have spent as much time on pharmaceuticals or the food industry.
I was also certainly interested in the notion of how you can have these things like tobacco, like certain pharmaceutical issues, or like climate, where the science is clear yet the doubt persists. How do you maintain doubt when the science is clear that it's about something else? What are the factors? And it turns out there multiple, of which money is one of the biggest.
Part of it is tribal, but that was true with gay rights, too, and all of a sudden six years later things have changed. I'm feeling kind of optimistic that it can change around the issue of climate from that perspective. 
But the thing that interested me most was how media could represent issues as if they were debates when they weren't debates.
READ Sojourners' review of Merchants of Doubt here.