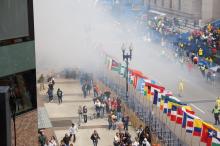 What do you say in the face of evil?
The stories from Monday's attacks at the Boston Marathon are heartbreaking, gut-wrenching. One in particular stands out to me. A woman was waiting for her husband to cross the finish line when the bombs exploded. For three hours she searched frantically for him, not knowing if he was alive or dead, not knowing if he was frantic and looking for her. Her voice cracked and tears flowed with the raw memory as she told of the moment when she and her husband embraced.
Moments like this, even when they end happily, remind us of our vulnerability. As hard as we try to protect ourselves with heightened security measures, we know that complete invulnerability is impossible. I am vulnerable. My wife is vulnerable. My children are vulnerable. We cannot escape it.
In the face of gun violence and bombings, gender violence and rape, we would be irresponsible not to ask big questions about evil and human vulnerability.
A few hours after the bombing, President Barack Obama addressed our natural desire to carry out justice after these events.
[M]ake no mistake; we will get to the bottom of this. We will find out who did this, we will find out why they did this. Any responsible individuals, any responsible groups, will feel the full weight of justice.
Like the president, I want to take action against evil and I want to know I am secure. I hate admitting that I'm vulnerable. But the president's words didn't reassure me. They made me feel more vulnerable because the phrase "full weight of justice" is always a veiled call to violence.