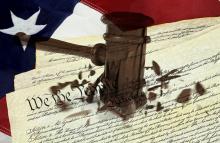 It started when the United States Supreme Court determined that corporations were people and, as such, had similar rights and protections as us oxygen-breathing types. And now, in another recent decision, the court has decided that people (individual human beings or corporations) have the right to donate to an unlimited number of political candidates — therefore removing the aggregate cap on total donation amounts — as such gifts should be protected as an exercising of free speech, as defined in the constitution.
So much for representative democracy.
It's my understanding that the founders of our nation and the framers of our constitution held the notion of representative democracy fairly sacred.