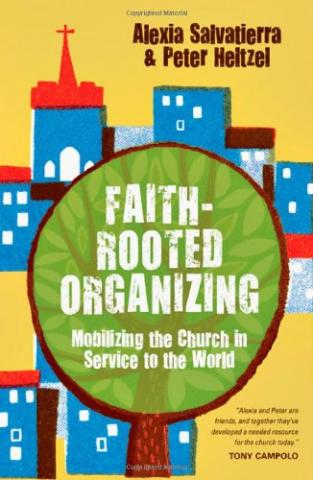 FAITH-ROOTED Organizing: Mobilizing the Church in Service to the World outlines a theological cartography of social change. In this critical intervention, Alexia Salvatierra and Peter Heltzel reimagine—and as a necessary consequence, rechart—the landscape of vision, action, and strategic planning needed for social change.
Full disclosure: I have attended several trainings conducted by the co-authors. Indeed, the dual authorship of the text is a principal strength. Faith-Rooted Organizing blends the voice of an evangelical-activist theologian in Heltzel with the homespun profundity of a seasoned pastor and campaign organizer in Salvatierra. The authors delight readers with complementary writing styles: Heltzel speaks through theological propositions, interpolated intermittently with jazz references and theological punch lines; Salvatierra communicates through proverbs, organizing anecdotes, poignant biblical passages, and narrative side notes.
The result is a well-argued and accessible text that should resonate from the seminary to the sanctuary. Their driving thesis is that faith communities, especially Christian ones, should organize for social change in a way that is rooted and guided by the stories, symbols, sayings, and scriptures of our faith. Faith-Rooted Organizing functions as an instruction manual on effective advocacy while providing a theological rationale and vocabulary for a vocation marked by tremendous victories and colossal failures, breakthrough partnerships and fragmented coalitions, glimpses of beloved community and portraits of democracy stillborn.
These strengths notwithstanding, some themes of the book could be deepened. The text assumes—but does not explicitly argue for—the policies of an interventionist state, the countervailing power of labor unions, and a civic culture responsive to political pressure, principled argument, or both. Much of the audience of Faith-Rooted Organizing, presumably, shares this social vision, but the unconvinced need to hear core premises stated and defended. Moreover, even the proverbial choir needs to hear preaching that explains as well as emphasizes the magic of dearly held melodies.
Additionally, given the ecumenical and egalitarian aims of the faith-rooted organizing project, offering a rigorous defense of self-governance and democracy would augment the text. Gary Dorrien notes that the book draws upon a sociological theory of change called resource mobilization theory. That theory, in essence, contends that preferred futures can be established when resources such as money, labor, capital, and so on are organized in a particular direction for a particular end. Heltzel and Salvatierra assemble an impressive array of anecdotes and "movement stories" to demonstrate the local and regional effectiveness of this strategy.
There is, however, a big picture question that confronts the reader—to whom do we assign responsibility for implementing justice? Is the principal duty of the church and community-based groups concerning justice to call the state to a higher vision of the common good (enforcing rights, implementing social insurance and social service programs, mandating fair housing and wages, etc.)? Or might we expand our ecclesiology of justice and claim with Ron Sider that the first society that must be just is the church? If we pursue the latter claim, which appears to be the direction in which Heltzel and Salvatierra point, then Faith-Rooted Organizingfinally aims toward a renewed church that blesses the world so that all its peoples might see a day where justice and peace embrace in our cities, countryside, communities—in all creation. 
Andrew Wilkes is co-minister to young adults and social justice ministry director at the Greater Allen AME Cathedral of New York and a Sandy Recovery grants manager at American Red Cross Greater New York.