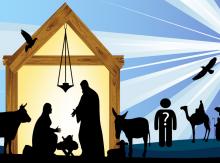 In the church where I grew up, the first Sunday in Advent was dubbed the "hanging of the greens." On that special Sunday, we sang carols in the decorated sanctuary, all culminating in the children's live nativity scene. The service never changed from year to year. The only variables were how many kids needed roles and which young child would get stage fright, thus leaving part of the the story without visual representation. 
It always seemed like the doves were cursed. The doves rarely remained on stage for the entire performance. Over the years, I was a variety of animals — a wise man, a shepherd, and finally Joseph. I never got stage fright. I was never a dove. I can only imagine what my mother would've done if I had been that kid. 
It took me years to realize that there was a character missing from my congregation's telling of the story. We always left out King Herod. 
This was a huge oversight, because Herod plays a major role in Matthew's account of Jesus' birth.