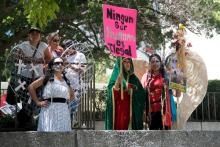 Charles Carpenter
George Murray
Nolan Harmon
Paul Hardin
Joseph Durick
Earl Stallings
Edward Ramage
Milton Grafman
In towns all across America, streets are not named after them. School children do not learn about them. No one waits in line to see the homes where they were born. They are ... simply forgotten.
They weren't necessarily bad men. They weren't unimportant men. They were men of influence, men with a voice and the respect of their community. Most would have agreed; they were good men, according to one, "men of genuine good will."  While evil men are remembered and great men are enshrined, these men … just forgotten.
They are forgotten for being on the wrong side of history. Men forgotten for being silent when "a word fitly spoken" could have made a difference. Men who are forgotten for valuing comfort and stability over justice and compassion. Forgotten because they were unwilling to call out the status quo, and show it for it was … cruel and unjust.
These are the eight men on the other side of Martin Luther King's "Letter from a Birmingham Jail." The recipients. Eight well educated white pastors, priests, and rabbis who by God's providence led reputable congregations in Birmingham, Ala., in 1963.