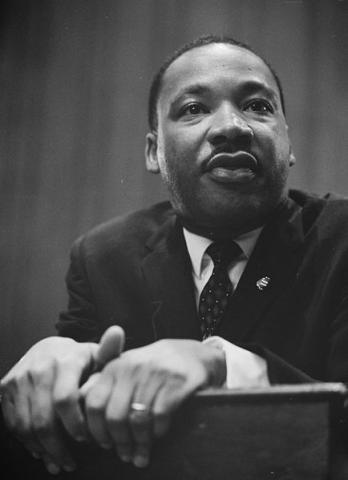 The Rev. Dr. Martin Luther King did not give his life just for Black Americans, but for all Americans. He knew America could be better. He knew the America that was birthed with the hope of "liberty for all" excluded hundreds of thousands of people.
As he said in his famous sermon that is so often referred to as the "I Have a Dream" speech,
In a sense we have come to our nation's capital to cash a check. When the architects of our republic wrote the magnificent words of the Constitution and the Declaration of Independence, they were signing a promissory note to which every American was to fall heir. This note was a promise that all men, yes, black men as well as white men, would be guaranteed the unalienable rights of life, liberty, and the pursuit of happiness. It is obvious today that America has defaulted on this promissory note insofar as her citizens of color are concerned. Instead of honoring this sacred obligation, America has given the Negro people a bad check, a check which has come back marked "insufficient funds." But we refuse to believe that the bank of justice is bankrupt. We refuse to believe that there are insufficient funds in the great vaults of opportunity of this nation. So we have come to cash this check — a check that will give us upon demand the riches of freedom and the security of justice. We have also come to this hallowed spot to remind America of the fierce urgency of now. This is no time to engage in the luxury of cooling off or to take the tranquilizing drug of gradualism. Now is the time to make real the promises of democracy. Now is the time to rise from the dark and desolate valley of segregation to the sunlit path of racial justice. Now is the time to lift our nation from the quick sands of racial injustice to the solid rock of brotherhood. Now is the time to make justice a reality for all of God's children.
In this "March on Washington for Jobs and Freedom," tens of thousands of people from all corners of the nation gathered to insist on that which they knew to be true — that America must "make justice a reality for all of God's children."
I write this article because as I peruse on the web, I grieve the number of churches and theological institutions of higher learning that don't have anything listed on their calendars for Dr. King's birthday. And I write because of what happened some twenty years ago.
Our church secretary was completing the calendar for the church newsletter and had included a picture of the Rev. Dr. King. One of the church elders came in the office and muttered in disgust. When I sought more information the elder said, "As far as I'm concerned, King went to Memphis looking for trouble, he found it, and I'm glad."
We who are ministers of the Gospel of Jesus Christ (and, I would add in the tradition of Rabbi Abraham Heschel who stood and marched with Dr. King, any leader of faith) must, by definition, determine who we are to be. If we concur with Mary in Luke 1 that God "has satisfied the hungry with good things and sent the rich away with empty hands," then Dr. King lived the truth of that with courage.
If we follow the Jesus who said that the Spirit of the Lord was on him to "preach Good News to the poor" and "that the downtrodden will be freed from their oppressors," then very few have lived these words like Dr. King. (And let me add, parenthetically, that those who refuse to honor Dr. King because of his dalliances should also no longer quote the Psalms.)
The gift of Martin Luther King Sunday is not just to honor the person of Dr. King but, rather, to honor what he preached. And to garner the courage to live what he preached!
Recently more young people were murdered in Chicago. People cluck their tongues about "bad" areas of town. The Rev. Michael Pfleger, pastor of Chicago's St. Sabina Catholic Church, whose own foster son was killed in street violence a number of years ago, wisely observed:
"Englewood has again been demonized as this community of violence. I believe that we should and must change a day where violence is acceptable and code of silence the norm, but as we talk about the violence in Englewood let's also talk about the violence AGAINST Englewood! HIGHEST UNEMPLOYMENT, POOR SCHOOLS, DRIED UP RESOURCES, HIGHEST AMOUNT OF ABANDONED BUILDINGS, and the list goes on. These realities create a Perfect Storm for violence and crime. Let's look at the cause as well as the effect!"
We live in a nation where "racism is in the air we breathe and the water we drink," as the Rev. Dr. Gardner Taylor (a confidant of Dr. King) observes. We who are in the majority culture must acknowledge and confess that we benefit from the privileges we receive.
As a Pew Research Center analysis revealed this past summer, "The median wealth of white households is 20 times that of black households and 18 times that of Hispanic households." The promissory note continues to be returned, marked "insufficient funds."
No, singing "Lift Ev'ry Voice and Sing" does not ameliorate anything. But one cannot address any injustice without acknowledging it.
Dedicating a Sunday — even in an all-white church (perhaps particularly in an all-white church) — where the injustice is named from the pulpit is the beginning of a conversation that continues to be too rare in our nation.
Rev. Ruth Hawley-Lowry is a pastor in Michigan who is looking for the next place where she might "break the silence."