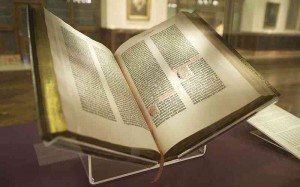 This morning, as I caught up on what had been going on in the world over the weekend, I stumbled across a very interesting resource -- a website that compares the frequency with which words appear in the Bible and the Quran.
Although that in itself is an interesting tool, I was less interested in the comparison feature and more interested to see how often certain words appear in the Bible.
Our CEO, Jim Wallis, tells a story from Sojourners' early days in the November 2011 issue of our magazine that reminds me of this new online word-search for scripture.
Jim writes:
One of our first activities was finding every verse of scripture about the poor, wealth and poverty, and social justice. We found more than 2,000 texts that we then cut out of an old Bible. We were left with a "Bible full of holes," which I used to take out with me to preach.
A Bible full of holes.
"The Holy Bible and the Holy Quran: A Comparison of Words," created by Pitch Interactive, might not make quite the dramatic visual statement as a "Bible full of holes," but the online comparison does allow us to see for ourselves how often, for instance, justice or poverty or wealth are written and spoken about in the Bible.
"Poor" and "poverty" appear 446 times in 384 separate verses in the Bible
"Wealth" can be found 1,453 times in 1,273 verses
"Justice," in contrast, appears 1,576 times in the Old and New Testament in 1,379 separate verses.
Justice is mentioned twice as many times as "love" or "heaven" -- and seven times more often than "hell."
By the numbers alone, it's obvious that justice is a pretty big deal to God.
As Sojourners celebrates its 40th anniversary this month, it's inspiring to see the "hole-y" Bible concept recreated on the Web.
It's also exciting to see so many people around the United States and the world standing up for issues of justice -- ending extreme poverty, combating greed, building a more equitable economy at home and abroad, eradicating malaria and other imminently curable diseases from the world, healing the environment -- at the Occupy protests that have grown exponentially since early September and spread around the globe.
As we look toward the next 40 years and the innovations (and challenges) they will bring, may we never forget that image of a Bible full of holes.
Jack Palmer is a communications assistant at Sojourners.
Got something to say about what you're reading? We value your feedback!