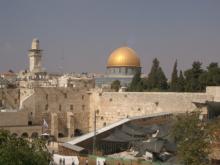 In a bid to defuse the wave of Palestinian violence that has struck Israel and the West Bank during the past few weeks, Israeli Prime Minister Benjamin Netanyahu on Oct. 8 prohibited all of the country's parliamentarians from visiting the Temple Mount, a contentious site holy to both Jews and Arabs.
Netanyahu made the controversial decision in order to quell Muslims' fears that Israel was preparing to assert sovereignty over part or all of the Mount, the site of the Al-Aqsa Mosque and Dome of the Rock, and the long-destroyed Jewish Biblical Temples. Netanyahu has long denied such intentions.
Far-right-wing Jews, including Israeli agricultural minister Uri Ariel, say Jews should have the right to pray at Judaism's holy site, and some have vowed to build a Third Jewish Temple on the Temple Mount. Arab leaders, including Palestinian President Mahmoud Abbas, have said such a move would result in a regional war against Israel.