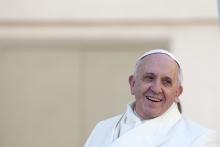 The Vatican announced it will recognize the state of Palestine in a treaty concluded May 13.
The treaty is awaiting formal approval and signing, but it is already being recognized as a major statement of support for a Palestian state in the historically contested region. 
The pope has long signaled his support of a state. The language of the treaty, while not yet signed, has alarmed Israelis but invigorated the Palestinian case for statehood, The New York Times reports. 
For the past year, the Vatican had informally referred to the country as "state of Palestine," in its yearbook as well as in its program for Francis' 2014 visit to the Holy Land.

Formal recognition of a Palestinian state by the Vatican, which has deep religious interests in the Israeli-occupied Palestinian territories that include Christian holy sites, lends a powerful signal of legitimacy to the efforts by the Palestinian Authority's president, Mahmoud Abbas, to achieve statehood despite the long paralyzed Israeli-Palestinian peace process.
Read more from The New York Times here.