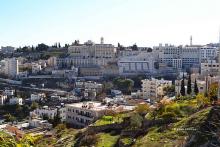 Christmas is the one time each year when much of the world turns its gaze to Bethlehem, the West Bank town at the heart of the Gospel account of Jesus' humble birth in a stable.
But Bethlehem may be in for a second round of global publicity in the span of a few months with the expected visit of Pope Francis in May.
In an interview earlier this month, Francis confirmed rumors that he planned to travel to the Holy Land — probably stopping at sites in Jordan, Israel and the West Bank in the Palestinian territories — and said preparations were underway.
Then last week the Latin patriarch of Jerusalem, the top Catholic official in the region, revealed that the visit was set for May.
Given the political and religious combustibility that attends almost any event in the Holy Land, a papal trip was bound to be fraught and a debate over the visit quickly erupted as Israeli newspapers reported that the preliminary itinerary for Francis' pilgrimage has him spending just one full day in Israel proper — probably arriving in Jordan on Saturday, May 24, traveling to Israel on Sunday morning, then celebrating Mass in Bethlehem on Monday before heading back to Rome.