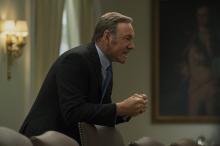 All presidents beseech God to bless the United States of America. Many pray for divine aid for themselves or their policies. Some can only wonder at the inscrutable ways of the Almighty.
Then there's Frank Underwood, who spits in God's face.
Underwood is fictional, of course, the power-grabbing president and central character in the hit Netflix series House of Cards. And Underwood is a notoriously amoral — criminal, actually — practitioner of a realpolitik so brutal that nothing he does should be surprising.
Indeed, in the show's first season, a frustrated Underwood stopped by a church and looked heavenward to speak to God, then down to address Satan. Finding no satisfying answer from either, he concluded:
"There is no solace above or below. Only us, small, solitary, striving, battling one another. I pray to myself, for myself."
Still, it is almost jarring when, in the third and most recent season of the political thriller, Underwood — again stymied in his schemes — meets with a bishop late at night in a darkened sanctuary and engages in an extended debate on divine justice, power and love.