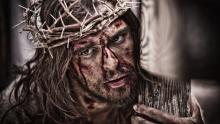 Need proof that biblical entertainment is Hollywood's holiest trend? Then look no further than Morocco, where three TV projects — National Geographic Channel's Killing Jesus, NBC's A.D. The Bible Continues and CNN's Finding Jesus — were filmed on neighboring sets last year.
"You got this kind of Life of Brian-esque world you're living in, where on all of our days off, there's 36 disciples sitting around the pool and three Jesuses at the bar," said actor Stephen Moyer, who ditched the fangs from True Blood to play Roman governor Pontius Pilate in the Ridley Scott-produced Killing Jesus.
Based on Fox News host Bil O'Reilly's follow-up to the books he co-wrote with Martin Dugard, Killing Lincoln and Killing Kennedy, Killing Jesus tracks the last days of the Christian Messiah. Played by Muslim actor Haaz Sleiman, he is portrayed less as a miracle worker and more as a political threat, and the script heightens the sexual tension between Jesus and follower Mary Magdalene (Klara Issova).
"It plays with the idea that Jesus' teachings are more important than the doing of miracles, that the idea behind what he's saying is the point and it doesn't need to have out-of-body, magical elements happening," Moyer said.