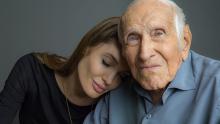 Angelina Jolie's highly anticipated film "Unbroken" features the true story of an Olympian and World War II veteran who was only able to extend forgiveness to his captors after he encountered Christianity.
The problem? The Christianity that is central to Louis Zamperini's life is almost entirely absent from the film.
That could prove a disappointment to Christian viewers who read the best-seller by Lauren Hillenbrand that spawned the film, or who have been courted by the filmmakers to see the film, which opens in theaters on Christmas Day.
The question is whether Hollywood can lure faith-based audiences with a story that's based on faith but doesn't pay much attention to it, especially against the blockbuster biblical epic "Exodus," which opens on Dec. 12.