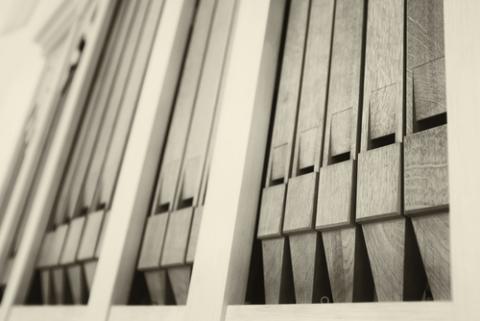 Nostalgia drives liturgical change as much as it drives musical entrepreneurship. What songs warm our hearts? What reminds us of grandmother? A song might symbolize an imagined, more perfect, time in the church. Nostalgia and utopian dreams of the past collude and what emerges is new liturgy.
The new is born of ideations of the old. The new is born of nostalgia as much as anything else.
Of course, most of us are nostalgic for times and places that are irrecoverable. How we partake of the table feast is predicated on what moves our heart. And it is mediated by the liturgical power structures of our own traditions. Perhaps you have a prayer book like the 1979 Book of Common Prayer. So, you try to create a liturgy for both you and your grandmother even though your grandmother still perceives the 1979 Book of Common Prayer as an innovation and not the church of her childhood for which she too is very nostalgic. She misses her parents. She misses her grandparents.
And on and on this goes. We can sing "great cloud of witnesses" until we're as blue in the face as the cover of our hymnals, but the truth is that the words don't always meet the nostalgic yen. Still, we try. We play songs. We offer prayers. We appropriate the cultures of the past retooling them for our own nostalgic proclivities.
This is, as Elodie Roy, the author of " Cassette Fever in the Age of Bandcamp," reminds us, all mediated by a marketplace. "Nostalgimania" is a "consumeralgia." I suggest that this is as true for the ongoing (dare we say, emergent) liturgical renewal movements as it is for the music industry.
The return of tapes, however, is not an isolated or idiosyncratic phenomenon. It belongs with a larger age of retromania, to use Simon Reynolds' expression: cultural objects from the past become desirable once more. Past technologies are feverishly recycled and sold again. Nostalgia is, in other words, a consumers' disease – a 'consumeralgia' – a longing to hold and own things, to collect tangible remainders of the 'old world'. It is, moreover, a particular disease of the Western World.
We are retooling liturgies left and right. This practice is neither good or bad, but there is an ethical ambiguity that may need to be addressed.The new is born of ideations of the old. Then sold in the liturgical marketplace.
Transmission and change are increasing. We can barely keep up. Mumford Masses happen. U2charists are already passe and most of us haven't heard of them. The sale of the same (when they are sold and not "borrowed") pads the coffers of denominational retirement plans as well as individual bank accounts.
What's next is what was.
And it's making some people a lot of money.
Thanks be to God.
Tripp Hudgins is a doctoral student in liturgical studies at the Graduate Theological Union in Berkeley, Calif., and associate pastor of First Baptist Church of Palo Alto, Calif. You can read more of his writings on his longtime blog, "Conjectural Navel Gazing; Jesus in Lint Form" at AngloBaptist.org. Follow Tripp on Twitter @AngloBaptist.
Image: Historic church organ, FooTToo / Shutterstock.com
Send Us a Note
Got something to say about what you're reading? We value your feedback!