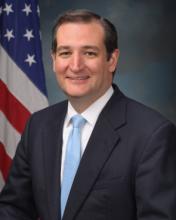 After he said "Christians have no greater ally than Israel," Sen. Ted Cruz, R-Texas, was heckled off the stage at a Sept. 10 gala to raise awareness of beleaguered Mideast Christians.
Cruz, the keynote speaker at the Washington, D.C., dinner, sponsored by In Defense of Christians, a new organization spearheaded by Catholic and Orthodox Christians, prompted boos and cries of "stop it!" and "enough" and "no!" as an increasingly louder crowd told him to get off the stage.
The incident, first reported by the online news organization The Daily Caller, was captured on video by EWTN, the Catholic television network. The video shows that Cruz tried to continue speaking, but many in the audience, in a hotel ballroom, expressed anger when he included Hamas in the list of militants out to destroy religious minorities in the Middle East.